Welcome to Rackspace: A Frenetic Orientation
By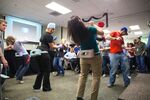 Even on my worst day at work, I can take solace in the fact that my co-workers have never seen me try to shake a ping-pong ball out of a box strapped to my butt. Nor have I seen them attempt the same.
Not so at Rackspace, a 4,500-person Web hosting company in San Antonio. The company's new-hire orientation is a five-day lollapalooza of ice breakers, games, races, and skits. Think Color War in business casual; pledge week with Susie from accounting. "It was loud, and it got crazy," recalls Lori Concilio, a 52-year-old enterprise account manager who joined the company last month. She and 37 other new hires played a Price Is Right-inspired game. In a table-decorating competition, the race to grab materials from bins got a little chippy. "Everyone was going after this disco ball," Concilio recalls.
If that sounds awesome to you, you're exactly the kind of person Rackspace might be looking for. The company's culture lords take pride in the off-beat, "fanatical" culture and believe that the best introduction to the business is four days of fun and games—whether the hires are ready for it or not. The "Rookie O" program (short for Rookie Orientation) is mandatory.
Chief among the culture cops is Lawrence Reyes, the company's so-called Ambassador of Culture, who prefers to be called SugarBear (seriously). He works with one other employee who is fully dedicated to orientation, which is held once a month. Their budget is $25 per hire, which means Concilio's orientation cost almost $1,000.
The aim of Rackspace's pep-rally orientation is to foster collaboration, says SugarBear, who is 41 now but was once a Lamda Omega Alpha at the University of Texas at Austin. Imagine if all 4,500 employees supported the company as enthusiastically as Texas alumni root for the Longhorns.
The company takes orientation very seriously and tries to hire personalities who fit its culture. Rackspace even states in its quarterly report: "Our corporate culture has contributed to our success, and if we cannot maintain this culture, we could lose the innovation, creativity, and teamwork fostered by our culture, and our operating results may be harmed."
The unconventional orientation has its critics. A former employee, Jonathan Ellis, wrote on his blog in 2008: "Four days is murder … Force the speakers to cut the fat. That should get you most of the way to 3 days right there. If you still need to cut more, drop the skits. I know they are near and dear to your heart—they are not to the introverts in the room—but skits and prep is 2.5 hours of time."
Doris Sims, author of Creative Onboarding Programs, encourages the use of games to get new employees excited about their jobs, but she notes, "Some people might be put off by that." Activities, fun as they may be, she adds, should always reflect the company culture and serve a purpose.
That is part of the point, says SugarBear: to weed out those who would be uncomfortable, or simply a buzz kill, if an impromptu Nerf battle were to break out in the office. "Those who delay the orientation, or did not go in years past, are the ones who are not successful here, because they did not understand the environment and how to really engage with an employee," says SugarBear.
As the company grows, managing the culture will require some modification, though SugarBear says, "I've been here since we were 14 people to the size we are today. We've made modifications, but we don't want to dilute." There are some 200 jobs open now. Killjoys need not apply.
Before it's here, it's on the Bloomberg Terminal.
LEARN MORE