Patience: 21.1 Percent per Year for a Decade
by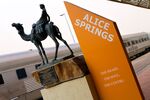 We continue to look through any near term weakness in carloads as the major catalyst for GWR remains the integration of RailAmerica. We believe RailAmerica will be very accretive to GWR as the railroads are integrated into one management network driving EPS north of $5.50 in 2014.
—John Barnes, Mike Fountaine, Todd Maiden, Positive Impact, Genesee & Wyoming Inc., RBC Capital Markets, January 15, 2013.
… any near term weakness.
Why does collective America not own stocks? Count the ways. Count the reasons.
Reason this.
Facebook, Apple, JPMorgan, Ford and Herbalife get the press.
While you and we, the media, fixate on the daily blather, an endless number of basic names attempt to grow revenues, corral expenses and generate cash flow. Shareholders win and employees win who hold said shares.
The Genesee & Wyoming Railroad started as a 14-mile track in western New York. They are now on the edge of ginormous dominating "short-rail" in America. They carve North-South, mid-continent Australia from Darwin to Nevil Shute's Alice Springs to points south.
They do this without "mystery" press conferences and without booth babes displaying the latest smokin' hot pickup truck. People believe their revenue recognition.
Check out Ford's shareholder total return. Check out Facebook's short-lived shareholder total return. Check out G&W's ability to ship rock salt and avoid hitting kangaroos. Boring.
You Can't Make Money in Stocks, short-haul version. GWR has generated 21.1 percent per year, total return the past decade. Discuss.
Before it's here, it's on the Bloomberg Terminal.
LEARN MORE