McDonald's Offers France a High-Calorie McBaguette
by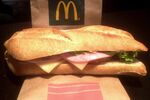 The McBaguette is not, strictly speaking, a baguette. But it is not bad. McDonald's France has introduced a selection of sandwiches on rolls resembling a shortened version of the classic crusty French loaf.
Sorry, Gallic purists, but after sampling it, I can tell you that the McDonald's bread is pretty good. OK, not as good as the premium-priced "traditional" baguettes sold in bakeries and served in upscale restaurants, but certainly no worse than the standard loaves consumed daily by millions of French.
It helps that the sandwiches are served warm. "Bread is always better warm. It's a trick, but McDonald's is doing the trick," says Pierre Koffmann, a veteran French chef who gave a thumbs-up to the new offerings in an interview with Bloomberg News. Koffmann, who won three Michelin stars at La Tante Claire in London, now has an eponymous restaurant at London's Berkeley Hotel.
McDonald's is offering a choice of three fillings—hamburger, breaded chicken, or ham and cheese—but in a distinctly un-French flourish, they've put hash-brown potato patties inside the sandwiches. My Bloomberg Paris bureau colleagues and I, after sampling all three versions, concluded that the fillings were OK but not great. I found the combination of breaded chicken and hash browns particularly unappetizing. Colleagues thought the hamburger and ham-and-cheese versions were better.
My hunch is that the McBaguette will not catch on with French customers. (Actually McDonald's doesn't call them McBaguettes. It uses the term "Casse Croute," which roughly means to grab a sandwich, and sells them with a soft drink for €4.50, about $6.)
They make for a very heavy meal compared with a typical baguette sandwich, which often consists of nothing more than a few slices of meat and/or cheese on lightly buttered bread. In fact, they make for a heavier meal than a Big Mac, which has 510 calories compared with 565 for the ham-and-cheese McBaguette, 605 for the hamburger version, and 719 for the breaded-chicken version.
Not that McDonald's has much to worry about in France. It's the company's most profitable foreign market, with 1,228 outlets racking up more than $5 billion in annual sales. This success was evident when I stopped at McDonald's on the Boulevard des Italiens near the Paris Opera. The McCafé section of the restaurant was full of customers enjoying coffee, pastries, and French macarons. I had to wait in line behind a dozen or so customers before ordering my McBaguettes.
I noticed, however, that I was the only person ordering them. Everyone else was getting hamburgers and other standard McDonald's fare. They were served immediately, whereas I had to wait while my sandwiches were made up. This allowed me to watch the guy in back squirt mayonnaise onto them out of a huge plastic bag, which did not exactly whet my appetite.
At least I knew they were fresh. Chef Koffmann points out that most baguette sandwiches sold in French bakeries are made early in the morning and sit on a shelf until lunchtime. Given the choice between that and a McBaguette, he told Bloomberg News, "I'll go with McDonald's."
With reporting by Richard Vines and Caroline Connan of Bloomberg News
Before it's here, it's on the Bloomberg Terminal.
LEARN MORE