JPMorgan Halves CEO Dimon's Pay Over 'Whale' Losses
The bank's report on its London trading debacle faults the CEO and other executives.
By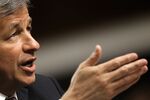 JPMorgan Chase published a feast of reading material on Wednesday morning about its trading losses in the "London Whale" debacle. The trading disaster last year not only cost JPMorgan some $6.2 billion, it transfixed Wall Street for months with questions of how a unit meant to reduce risk could have failed so spectacularly. Among the consequences: Chief Executive Officer Jamie Dimon, who compounded the bank's problems in April by calling the incident a "tempest in a teapot," saw his 2012 pay cut in half today, to $11.5 million.