Will Thomas Weisel, Who Owns Lance Armstrong's U.S. Postal Team, Get Charged with Fraud?
Matt Smith and Lance Williams, Center for Investigative Reporting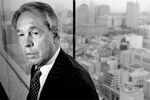 Lance Armstrong's "no-holds-barred" interview with Oprah Winfrey on Thursday, when he's expected to confess to the use of performance-enhancing drugs during his professional cycling career, comes as a federal probe into his finances has widened to focus on the man who bankrolled his champion teams: legendary San Francisco financier Thomas Weisel. Documents unsealed on Dec. 12 in a federal court in Washington reveal that government investigators pursuing possible fraud claims against Armstrong have also subpoenaed Weisel, founder of the Montgomery Securities investment bank and co-chairman of Stifel Financial.
In Silicon Valley, Weisel, 71, is renowned for having taken public such companies as Amgen and Yahoo!. In sports, though, he is known as the founder, owner, and chairman of San Francisco-based Tailwind Sports, the holding company for the U.S. Postal Service cycling team that Armstrong led to an unbroken string of seven victories in the Tour de France, from 1999 to 2005. From 1996 to 2004, the U.S. Postal Service paid out $40 million in federal funds to sponsor the team. Team management, which hired and paid the riders, promised in its contracts not to tolerate doping. The Major Fraud Investigations Division of the Postal Service's Office of Inspector General is trying to determine if Armstrong and others defrauded the government by violating that no-doping clause, a federal prosecutor wrote in a filing last year. Weisel declined to comment for this story. He has not publicly addressed reports of doping on the team.
In addition to the Postal Service's probe, two other legal cases have targeted Tailwind since October, when the U.S. Anti-Doping Agency (USADA) issued its devastating 1,000-page report portraying Armstrong as a serial cheat. Those cases also turn on whether Armstrong's use of banned drugs constitutes financial fraud—and if so, whether the team's owners can be held financially accountable.
In Texas, an insurance company wants to recoup $11 million it paid to Tailwind to cover multimillion-dollar performance bonuses triggered in Armstrong's contract each time he won the Tour de France. "Tailwind is in our sights because Armstrong's doping activities were concealed from us," said Bob Hamman of Dallas-based SCA Promotions, a sports insurer. "More to the point, he's no longer winner of the Tour de France."
Of potentially greater impact is a whistle-blower lawsuit that records show was filed against Tailwind by former cycling star and confessed doper Floyd Landis. In an affidavit, Landis told the anti-doping agency last year that he was introduced to blood doping by U.S. Postal Service team officials "acting on behalf of Tailwind and its principals." Landis's suit seeks to recoup the $40 million in sponsorship fees paid to Tailwind by the Postal Service. If he succeeds, Landis and the government would share the award. The complaint is sealed under terms of the federal False Claims Act. (CBS News and the New York Times report that Armstrong and his agent Bill Stapleton may also be seeking to repay several millions of dollars to the Postal Service "as part of their cooperation in the case.")
U.S. Justice Department lawyers, meanwhile, are weighing whether the government should join Landis's lawsuit, court records indicate. By law, companies that submit false claims to the government can be fined triple damages—as much as $120 million in the Tailwind case.
Born in Minnesota, Weisel was a champion speed skater who narrowly missed making the 1960 U.S. Olympic team. He earned a bachelor's degree at Stanford University and an MBA at Harvard and then launched a banking career in San Francisco. He developed a reputation as a Type A personality with sales acumen and an intense competitive streak. Weisel sought out and hired athletes, even some inexperienced in finance, who could help the company dominate local corporate track competitions.
Weisel pushed out his partners at the firm Robertson, Coleman, Siebel & Weisel in the late 1970s, taking over as chief executive officer. He changed the name of the firm to Montgomery Securities and became wealthy backing promising medical and technology companies. In 1997, he cashed out through a $1.3 billion sale to NationsBank that he helped orchestrate, later hiring key executives to the newly formed Thomas Weisel Partners. He sold that firm in 2010 to Stifel Financial and became its co-chair.
For much of his business career, Weisel continued competing in sports. In 1982, at 41, he placed third in his age division at the U.S. national skiing championships. He took up cycling the next year. His training regimen, detailed in his biography, included weekly flights from his Marin County home to Southern California practice sessions with ex-U.S. Olympic cycling coach Eddie Borysewicz. In 1989, Weisel won two cycling world championship gold medals in his 45-and-over age division. By then, he had his eye on the Tour de France.
The federal whistle-blower lawsuit targets Tailwind as a defendant, so the question of who controlled Tailwind is critical. The professional cycling team Weisel first assembled in 1998 was called Montgomery-Subaru, after its sponsors, but Tailwind was the team's holding company, records show.
During the team's earliest years, "Lance had no part of ownership of Tailwind, which was chaired by Thom Weisel for many years," according to a memo produced as part of legal proceedings by an attorney for the Dallas insurer SCA. By 2004, however, Armstrong had taken an 11.5 percent ownership stake in the firm, his agent Stapleton said during a 2005 deposition in the SCA litigation. Yet six years later, after Landis had told federal investigators of widespread doping on the Postal Service team, Armstrong told the New York Times that "the most glaring thing is the misconception that I was the owner of the team. That's completely untrue. No ownership. None at all."
Weisel first hired Armstrong in 1990, but after Armstrong quit to race for America's top team at the time, Motorola, Weisel signed another promising star named Tyler Hamilton, a future Olympic gold medalist who later confessed to using the blood-doping drug EPO and other banned drugs while riding with the Postal Service team. In his recent book The Secret Race, Hamilton recalled Weisel in those years as "almost another coach"—hard driving, intense, deeply committed. "For him, life was a race, and it was won by the toughest, the strongest, the guy who could do what it takes," Hamilton wrote of the financier.
Weisel poured money into Tailwind Sports, hiring top riders from the U.S. and Europe. In 1996, Tailwind found a sponsor with deep pockets: the federal government. But even after that cash infusion, the team continued to lose as much as $1 million per year, Tailwind Chief Executive Officer Mark Gorski testified in an earlier financial dispute with the SCA insurance firm.
After that, Tailwind shook up team management. Gorski replaced team physician Dr. Prentice Steffen, an outspoken opponent of doping, with Spanish sports physician Dr. Pedro Celaya, according to the anti-doping agency's report. Years later, riders told U.S. anti-doping officials that Celaya had provided them with EPO, blood transfusions, and infusions of saline to help them beat drug tests.
An enticing opportunity arose for Tailwind in 1997, after Armstrong was felled by testicular cancer and diminished by chemotherapy. Other teams didn't want him. Weisel offered to bring him back to the Postal Service team at a rock-bottom salary with performance bonuses. In 1998, Armstrong earned $1 million in bonus payments, according to the financier's biography.
With Armstrong aboard, the team achieved unprecedented success, winning the first of seven straight Tour de France races in 1999. In the years that followed, Weisel often followed Armstrong in the team car. He partied with him, celebrated with him, and displayed Armstrong's photographs and yellow jerseys in his Montgomery Street offices. After one tour victory, Weisel rented the top floor of the Musée d'Orsay in Paris for a lavish victory dinner, Hamilton writes in his book.
In cycling, Weisel won by leaving as little as possible to chance. In 1999, he devised a plan to take control of USA Cycling, the sports governing body that picks Olympic teams and hands down doping sanctions, Weisel's biography says. By 2001, when Armstrong was midway through his Tour de France winning streak, Weisel controlled not just cycling's strongest team, but the sport's U.S. regulator.
To Armstrong, Weisel was a kindred spirit. "This is a guy who likes to win all the time, at everything. Absolutely everything for him is a competition, in every part of his life," Armstrong wrote in a preface to Capital Instincts: Life as an Entrepreneur, Financier, and Athlete, an autobiography Weisel wrote with journalist Richard Brandt. "To Thom, everything's a deal. Everything's a prizefight, a contest."
Weisel recruited friends from his financial world to buy shares in Tailwind. Instead of earning investment returns, Tailwind funders bought into a cycling fan's fantasy camp, accompanying riders during training sessions, mingling with cyclists at parties in Weisel's Marin County home, and gaining exclusive access to Armstrong's team during the Tour de France. Investors reportedly included Richard Cashin Jr., chairman of a private-equity unit of JPMorgan Chase; David "Tiger" Williams, founder of Williams Trading; and Ward Woods, former CEO of Bessemer Securities, according to the Wall Street Journal.
Weisel also recruited wealthy friends to donate to the Weisel-led USA Cycling Development Foundation, set up to support USA Cycling. Top donors and investors called themselves the Champions Club. The team's run ended when Armstrong won his final Tour de France in 2005 and retired. The team, by then sponsored by television's Discovery Channel, disbanded two years later.
In its October report, USADA attributed the team's great success to systematic doping. Armstrong benefited from "an army of enablers" who helped him obtain EPO and other blood medications, human growth hormone, steroids, and clandestine blood transfusions and then covered up his drug use, the agency said. Eleven former team members—Hamilton and Landis among them—confessed they had doped to gain the strength to help Armstrong win.
Alleged enablers named in the report included team manager Johan Bruyneel; Celaya, the team doctor; and Dr. Michele Ferrari, an Italian physician with a reputation for keeping ahead of cutting-edge doping tests.
In the final years of his cycling career, Armstrong paid a company controlled by Ferrari more than $1 million, the U.S. Anti-Doping Agency said in its report. In exchange, Ferrari devised a doping regimen for the entire team, the report said.
Bruyneel and Celaya are contesting the agency's findings. Ferrari and Armstrong did not contest the matter and have been banned from cycling for life. According to published reports, Armstrong may have agreed to the Winfrey interview in hopes of easing the terms of the ban, perhaps with an eye toward competing in triathlons. How that tactic might play out for Weisel—personally or financially—remains an open question.
Weisel is not named in the redacted public version of the doping agency report. Over the years, as investigators zeroed in on Armstrong and his team, the financier has avoided commenting on the topic of drugs in sports. When his name has come up in legal proceedings pertaining to Armstrong and doping, he has been portrayed as indifferent to doping and eager to deflect allegations that could hurt Armstrong and his team. Legal records involving Tailwind portray a different scenario.
In documents prepared for a 2005 arbitration case in which the SCA insurance firm made an earlier attempt to recoup its $11 million, the Center for Investigative Reporting found reports of three incidents in which Weisel was allegedly confronted with the doping allegations swirling around the Postal Service team:
—In the 1996 team shake-up, team physician Steffen complained in faxes to Weisel that he was losing his job because he refused to allow drugs on the team. "What could a Spanish doctor, completely unknown to the organization, offer that I can't or won't," he wrote, referring to his replacement, Ceyala. "Doping is the fairly obvious answer," he said. He also warned that Johnny Weltz, the newly hired road manager, was a reputed drug cheat.
—While Armstrong was en route to his first Tour de France win in 1999, the team was roiled by a report that the cycling star had tested positive for cortisone, a banned substance. Team masseuse Emma O'Reilly claimed she had witnessed Weisel huddling with Armstrong in the cyclist's massage room, "frantic about what to do about the positive test." O'Reilly later told anti-doping officials that the team obtained a backdated prescription for a steroid cream to explain Armstrong's positive test.
—Retired U.S. cycling champion Greg LeMond publicly criticized Armstrong in 2001 for training with Ferrari, the reputed doping master. Soon, LeMond said, he got a threatening call from Weisel. "What you're saying about Lance isn't good for you," LeMond claimed Weisel told him.
Ultimately, each of the crises subsided. Weisel didn't give Steffen his job back, and 16 years passed before his replacement, Celaya, was charged with administering performance-enhancing drugs. Cycling officials accepted the backdated 1999 prescription, the masseuse and team members told the anti-doping agency, and they let Armstrong continue to his first Tour de France win.
After Armstrong dismissed LeMond in public statements as a jealous, unstable malcontent, the media and fans largely ignored the former champion's criticism. Instead, Armstrong was lionized. And Weisel, already revered in American finance, rose alongside him, becoming known as the driving force behind America's rise to dominance in a quintessentially European sport.
This story was edited by the Center for Investigative Reporting's Amy Pyle and copy edited by CIR's Nikki Frick and Christine Lee.