Will Thomas Weisel, Who Owns Lance Armstrong's U.S. Postal Team, Get Charged with Fraud?
Matt Smith and Lance Williams, Center for Investigative Reporting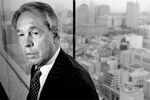 Lance Armstrong's "no-holds-barred" interview with Oprah Winfrey on Thursday, when he's expected to confess to the use of performance-enhancing drugs during his professional cycling career, comes as a federal probe into his finances has widened to focus on the man who bankrolled his champion teams: legendary San Francisco financier Thomas Weisel. Documents unsealed on Dec. 12 in a federal court in Washington reveal that government investigators pursuing possible fraud claims against Armstrong have also subpoenaed Weisel, founder of the Montgomery Securities investment bank and co-chairman of Stifel Financial.