What You Need to Know About the Fight Over Hurricane Sandy Relief
By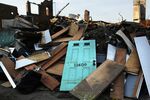 Updated to reflect the House vote.
Congress is currently debating whether to approve a $60 billion Hurricane Sandy relief package that Northeastern states have been clamoring for.
Lawmakers found themselves staring at a similarly monumental spending decision just over seven years ago: On Sept. 8, 2005, President Bush signed off on $51.8 billion in emergency aid for the victims of Hurricane Katrina, the worst natural disaster in U.S. history. That package followed one for $10.5 billion that had been approved on Sept. 2, only one week after Katrina hit the Gulf Coast.
Perceived congressional dawdling this time around has riled Republicans and Democrats alike. A guide to what's at stake:
Why has Congress taken so long with Sandy relief?
The idea that Congress has been dragging its heels is partially a misconception. When Katrina hit, FEMA's Disaster Relief Fund was almost empty. The $60 billion that Congress approved within 10 days after Katrina's landfall replenished FEMA's coffers so that it could get the basics—water, food, heat, and shelter—to victims. The agency's lack of money was one big reason for its woeful response in the days right after Katrina hit. Congress continued to approve money for Katrina victims with seven spending bills through 2008.
When Sandy struck, FEMA was more stable financially. Its chief, Craig Fugate, had over $5 billion dollars to spend on immediate disaster relief. That money is drying up. The legislation now under consideration in the U.S. House of Representatives would give the Disaster Relief Fund a cash infusion ranging from $5.4 billion to $11.5 billion.
Should Congress approve the Sandy package, it will have distributed money much more quickly than it did in the immediate aftermath of Katrina.
So what else is in the $60 billion package?
The rest of the money would fund long-term rebuilding. Billions of dollars are slated for the Army Corps of Engineers to build levees and flood walls and restore coastal watersheds and beaches. There's money for the U.S. Department of Transportation to rebuild highways, as well as for a grant program under which cities and counties would have funds to rebuild schools, police stations, infrastructure, and electrical grids and make them better resist future storms. There's also funding for the U.S. Department of Agriculture to restore damaged farmland and forests and for the Small Business Administration to be able to give low-interest loans to small business owners affected by the storm.
What are lawmakers fighting over?
The disaster bill the House is taking up today is actually two bills—one sponsored by the Republican head of the Appropriations Committee, Hal Rogers of Kentucky, and the other by New Jersey Republican Rodney Frelinghuysen. Rogers's amendment would distribute a lot less money to communities affected by Sandy than Frelinghuysen's would: respectively, $17 billion vs. $33 billion.
House Republicans say there's a lot of pork in Frelinghuysen's bill, which the Senate and the White House favor. For example: $336 million for the perennially broke Amtrak, some of which would fund a long-planned tunnel under the Hudson River and offset operating losses. Rogers, by contrast, would give Amtrak $32 million and prohibit the railroad from using the money for anything but storm damage.
Republicans have also complained that only a fraction of the relief money would be spent this year. Democrats say that's because rebuilding takes time. For example, it takes planning to figure out whether it's more cost-effective to build a seawall underneath the Verrazano Bridge connecting Brooklyn and Staten Island, or a more expensive floodgate that could withstand a 100-year storm. The floodgate built in New Orleans after Katrina cost $8 billion.
Update: After a full day of debate, the House finally approved the relief package a little after 7 p.m. Tuesday evening. Both Rogers's and Frelinghuysen's amendments passed, though only 38 Republicans helped Democrats get Frelinghuysen's $33 billion proposal through.
Katrina spending was rife with waste, fraud, and abuse. How do we know the same won't happen this time around?
Through her role on the Senate Appropriations Committee, Democrat Mary Landrieu of Louisiana has proposed common-sense changes to FEMA rules that are part of the legislation being considered by the House. For example, the agency is allowed only to rebuild infrastructure to its pre-crisis state. Landrieu wants to allow FEMA to make structures more resilient. Her proposal would also let the agency pay for repairs to victims' rental homes, instead of putting people in FEMA trailers.
She also wants to let FEMA reimburse cities and towns that use municipal employees for clean-up. FEMA rules currently say the agency can reimburse only contractors, which Landrieu's staff says tends to be more costly.
Facilities that aren't worth saving won't have to be rebuilt under Landrieu's proposal. If that sounds like a no-brainer, consider that after Katrina, New Orleans needed about half the schools it had before the storm because it lost so much population. Yet right now, cities face financial penalties from the federal government if they want to consolidate facilities after a major disaster.
Landrieu's proposal would also let FEMA give communities rebuilding money up front. After Katrina, cities had to lay out cash and then wait to get reimbursed by Washington. Since many localities didn't have the money on hand, they simply didn't rebuild.
Before it's here, it's on the Bloomberg Terminal.
LEARN MORE