Wal-Mart Tries to Improve Its Battered Image
by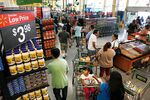 Wal-Mart Stores has been very busy during the past couple of days. The world's largest retailer has made a series of announcements that touch on a few of the most critical issues it faces. Some of the news came from Bill Simon, the head of Walmart U.S., at the annual meeting of the National Retail Federation on Jan. 15. Walmart's plans sound serious and smart for all kinds of reasons, including in terms of public relations, and suggest the company wants to do better. At the meeting, Simon concluded by saying: "Everything could have just remained the same. Instead, we decided we could move the rock. … We can just decide to do this."
OUR Walmart, the union-backed group that staged protests in November, is asking for more hours and better pay. Among the group's complaints is that part-time workers' schedules change too frequently, making it difficult to hold a second job or go to school or care for families. At the retailers' meeting, Simon started out by saying, "We're all tired of retail jobs being put down, as if retail workers can't judge for themselves what a good job is." He went on to promise that part-time employees would receive more information about full-time job openings and have the first shot at those jobs, and added: "We will also bring more transparency to our scheduling system so part-time workers can choose more hours for themselves." In response, a union group called Making Change at Walmart tweeted: "Great news if it's true!"
Simon also announced Walmart will offer a job to any honorably discharged veteran who has been off active duty for less than a year. The company projects it will hire more than 100,000 veterans over the next five years. First Lady Michelle Obama praised the plan in a statement (PDF) released by the company. A colleague at Bloomberg News points out that Walmart's hiring initiative could generate as much as $960 million in tax breaks. "Our commitment has been in the works for months and the tax break wasn't even a consideration," says Walmart spokesperson Brooke Buchanan.
Critics contend that Walmart imports too many cheap goods from China and other low-wage countries. "I know according to urban legend Walmart's shelves are filled with foreign products," Simon said. Then he committed Walmart to buying an additional $50 billion in U.S. products during the next decade. He said the company will increase what it already buys, including sporting goods, apparel basics, storage products, games, and paper products.  And it will help manufacturers in such "higher potential" areas as textiles, furniture, pet supplies, some outdoor categories, and higher-end appliances.
The day before, Walmart had announced that Drew Barrymore's new line of premium cosmetics, Flower, will be sold exclusively in its stores by the end of the month. Flower is made in the U.S., too.
The U.S. Department of Justice and the Securities and Exchange Commission are investigating allegations of corruption by Walmart executives in its Mexican subsidiary, the retailer's largest, and a potential coverup by executives at its headquarters in Bentonville, Ark. (Walmart is cooperating with the investigation and conducting its own probe.)
On Jan. 11 the company announced a new head of Walmart Latin America, Enrique Ostalé, who will leave his current post as president and chief executive officer of Walmart Chile. The executive in charge of its Latin American operations is retiring. A Walmart spokesman told Bloomberg News the changes aren't related to the probe. But the timing is certainly right.
Before it's here, it's on the Bloomberg Terminal.
LEARN MORE