Top U.S. Law Firms Battle in Chevron's Pollution Case
By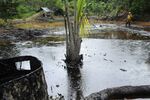 The epic litigation over who ought to clean up oil pollution in the Ecuadorian rainforest is approaching a further grim anniversary, with no end in sight and no improvement on the ground in the jungle. Instead, the now-global legal warfare against Chevron has devolved into a bizarre blood feud between two of the best-known corporate law firms in the United States: Gibson, Dunn & Crutcher and Patton Boggs.
Nearly two years ago, in February 2011, a provincial trial court in the frontier oil town of Lago Agrio imposed a record-breaking $18.2 billion verdict against Chevron. The verdict concerned contamination that accompanied oil production by Texaco from the mid-1960s through 1990. Chevron, based in San Ramon, Calif., acquired Texaco in 2001 and with it, liability for the rainforest legacy.
Chevron has vowed it will never pay a dime of the judgment, which now exceeds $19 billion. The oil company, with no assets to speak of in Ecuador, claims that the plaintiffs' lawyers, led by Steven Donziger of New York, obtained the enormous judgment by means of fabricated evidence and corrupt proceedings in Ecuador—allegations that Donziger denies. Rather than negotiate some kind of settlement, Chevron has launched a nuclear-force counterattack against Donziger in federal court in New York, which, in turn, has produced the ancillary battle between Gibson Dunn, Chevron's lead law firm, and Patton Boggs, which entered the fray in 2010 on the plaintiffs' side.
The only way to appreciate this Dickensian morass is to begin at the beginning. A group of American lawyers, including Donziger, filed suit in 1993 in New York on behalf of thousands of mestizo farmers and indigenous Indians. The American lawyers argued that their clients couldn't get a fair trial in Ecuador, whose courts, they said, weren't receptive to mass litigation and would be vulnerable to the political influence of the U.S. oil industry.
Texaco fought the U.S. lawsuit for nine years on jurisdictional grounds, insisting that Ecuador's courts were adequate. Eventually, the oil company prevailed, the U.S. case was dismissed, and executives at Chevron, the new acquirer of Texaco, assumed they were done with Ecuador. On the last point, they were wrong.
Donziger, a solo practitioner of Herculean tenacity, refiled the case in Lago Agrio in 2003. The oil company got what it asked for: a trial closer to the site of the alleged wrongdoing. The trial, however, did not go as Chevron would have liked.
The Lago Agrio court rejected the company's several defenses: that it had cleaned up a portion of the polluted sites in exchange for a 1998 liability release from the government of Ecuador; that the remaining pollution wasn't really so bad; that whatever pollution existed was actually attributable to Petroecuador, the national oil company that took over the oil fields; and that regardless of who was responsible for the situation in the jungle, Donziger had failed to produce hard scientific proof connecting the contamination to human illness.
No, said the Ecuadorian court in February 2011: There is oil on the ground and in the water, people are sick, and the deep-pocketed American oil company ought to do something about it—to the tune of billions of dollars.
Unfortunately for the Ecuadorian plaintiffs, the creative methods that Donziger used to prevail in Lago Agrio left him vulnerable to Chevron's counterattack back in federal court in New York. Gibson Dunn amassed evidence that it claimed showed Donziger had bullied Ecuadorian judges, submitted fake expert reports, and arranged to have critical court documents ghostwritten by paid U.S. consultants. Packaged as a civil racketeering suit, these accusations put Donziger on the defensive in his home country and made enforcement of the Ecuadorian judgment in the United States unlikely. A trial on Chevron's racketeering allegations is scheduled for the fall.
Meanwhile, Gibson Dunn and Patton Boggs are at each other's throats. Patton Boggs entered the case to help Donziger try to enforce the Ecuadorian judgment in third countries where Chevron has assets. Such enforcement actions are now pending against the oil company in Canada, Brazil, and Argentina. Chevron, unsurprisingly, is fighting all of those efforts.
In the U.S., Gibson Dunn has accused Patton Boggs of aiding Donziger's "fraudulent scheme." Most recently, Gibson Dunn alleged in a Jan. 7 filing in federal court in New York that Patton Boggs "was a key player" in a deceptive campaign to raise money from a U.K.-based hedge fund, which ultimately did invest $4 million in the plaintiffs' suit in exchange for a promise of a share of any recovery. To support this accusation, Gibson Dunn made public a Sept. 29, 2011, letter written by Burford Capital, in which the hedge fund accused Donziger of a "multi-month scheme to deceive and defraud in order to secure desperately needed funding."
Don't shed any tears for Burford. It has told its shareholders that it sold a $4 million "participation" to an unnamed investor, while retaining an upside interest in the Ecuador pollution case.
Patton Boggs, which, for its part, has filed several peripheral suits against Gibson Dunn, says it has been wrongly accused. "Patton Boggs is outraged at the transparent attempt by Chevron's counsel to misconstrue a letter from the Burford Group into an accusation that Patton engaged in a fraud," the Washington-based law firm said in a written statement. "The ploy by Chevron's counsel to feature the Burford letter in a recent court filing addressing unrelated issues is but Chevron's most recent effort to distract attention from the reality that it has a $19 billion judgment against it."
Karen Hinton, a spokeswoman for Donziger and the Ecuadorian plaintiffs, had this to add: "Burford's letter is itself nothing more than a fraudulent attempt to evade its funding obligations to the Ecuadorians. As a result of improper pressure by Chevron, Burford tried to remove itself from the case, yet maintain its equity interest in the Ecuador judgment at the same time. Chevron's false allegations of fraud against the Ecuadorians and their counsel always were disclosed to Burford and were available through a simple Google search of public documents." Burford calls Hinton's accusation "nonsense."
What does this have to do with cleaning up oil-stained streams in the rainforest? Not much. The gears of justice grind slowly.
Before it's here, it's on the Bloomberg Terminal.
LEARN MORE