The Atlantic, the Church of Scientology, and the Perils of Native Advertising
Jared Keller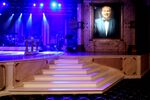 The Atlantic, the 157-year-old magazine, whipped the Internet into a frenzy on Monday night, when journalists noticed a peculiar story about the Church of Scientology on the publication's website. The article, which celebrated the church's past year of worldwide expansion, was marked with a yellow banner that identified it as "sponsored content." Otherwise, it looked just like any other article on the Atlantic's site. (Full disclosure: I worked for the Atlantic from 2010 to 2012.)
Journalists freaked out. Many expressed concern over the Atlantic's willingness to sell advertising space to a controversial organization such as the Church of Scientology. Others wrung their hands over how closely the sponsored article resembled the Atlantic's editorial content.

In the wake of the furor, the Atlantic removed the article and replaced it with a notice saying that the company had "temporarily suspended this advertising campaign pending a review of our policies that govern sponsor content and subsequent comment threads."
Why all the fuss? The Scientology "article" is an example of what's come to be called native advertising: a paid-for post designed to look as similar as possible to the posts written by an editorial staff. Advertisers are understandably annoyed that we've learned to read past their banners and block out the right rail; to keep ad dollars flowing, publishers are increasingly willing to experiment.
At their best, native ads are a seamless part of the reading experience. Depending on who you are, that's either great or horrible. If you're an advertiser, you get cool, original content—think Slate's 'Hipster Road Trip,' sponsored by Mini—that's more likely to be read, enjoyed, and shared. If you're a reader, though, it can be hard to know what's advertising and what's journalism. And for journalists, who struggle to maintain credibility on a good day, this kind of thing doesn't help.
"A lot of people worry about crossing editorial and advertising lines, but I think it respects readers more," Atlantic publisher Jay Lauf told Digiday in September. "It's saying, 'You know what you're interested in.' It's more respectful of the reader that way."
Even the most savvy publishers are trying to find the best way to deploy native advertising without angering readers. BuzzFeed, which raised $19.3 million in funding from investors earlier this month, may be the best at this, working closely with advertisers to make custom content that feels of a piece with the site's viral, punchy brand. Still, BuzzFeed came under fire just last week after scraping photos from social-news site Reddit for use in an ad campaign for Samsung.
In a statement, the Atlantic has acknowledged it "screwed up": "It shouldn't have taken a wave of constructive criticism—but it has—to alert us that we've made a mistake, possibly several mistakes. We now realize that as we explored new forms of digital advertising, we failed to update the policies that must govern the decisions we make along the way. It's safe to say that we are thinking a lot more about these policies after running this ad than we did beforehand. In the meantime, we have decided to withdraw the ad until we figure all of this out. We remain committed to and enthusiastic about innovation in digital advertising, but acknowledge—sheepishly—that that we got ahead of ourselves. We are sorry, and we're working very hard to put things right."
Putting things right with readers requires two things: clearly marking advertorials as sponsored content and ensuring that these ads actually reflect what readers are actually interested in. The Atlantic's audience (and the magazine's journalists) have long expressed skepticism about the Church of Scientology. As the Atlantic reconsiders how it deploys native ads in the future, its misstep may be a sign for digital publishers to pause before rushing to pursue new forms of digital advertising.
Before it's here, it's on the Bloomberg Terminal.
LEARN MORE