business
Selling Banana Slicers (and More!) With Gag Reviews
By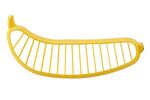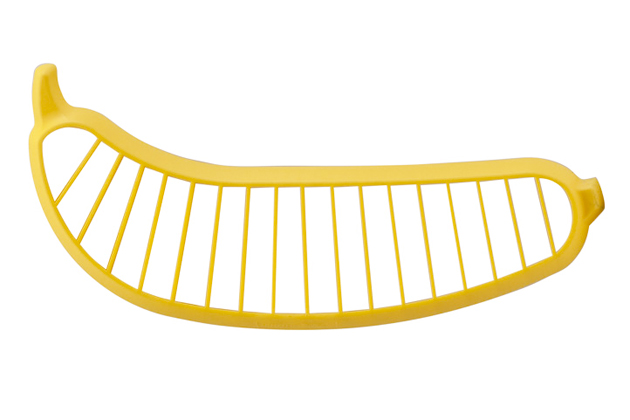 In October, Amazon surprised Hutzler Manufacturing by calling with a succulent bit of news: The tiny Canaan (Conn.) company's yellow plastic banana slicer had become a top seller in the online retail giant's kitchen category.
Delighted, Monique Haas, whose immigrant grandfather Lothar Hutzler founded the company in 1938, clicked on the slicer's Amazon product page. As she skimmed through hundreds of customer reviews, she started laughing. "Ordering one for my nephew who's in the air force in California. He's been using an old slinky to slice his banana's. He should really enjoy this product!" one comment read. Some racier entries were submitted under the name "Lorena Bobbitt." One reviewer who titled her post "saved my marriage," wrote, "What can I say about the 571B Banana Slicer that hasn't already been said about the wheel, penicillin, or the iPhone. … this is one of the greatest inventions of all time."
For small companies with limited marketing budgets, having a product achieve Internet fame is a win, even if it's a joke. The Hutzler 571, which costs $4.89, is currently ranked No. 2 in Amazon's "mandolins and slicers" category. The satiric reviews have appeared on blogs and YouTube and have led to "a considerable jump in our banana slicer business," Haas says, though she wouldn't disclose exact sales figures. "This is the closest thing to a meme you might encounter as a small brand," says Robert Ricci, who heads the social media practice at Marina Maher Communications in New York. "People are looking for companies that reveal a human side, so play along with it."
Of course, small business owners should monitor the buzz around their products or services, in case things get out of hand, and a host of online reputation management services have sprung up to help. "If someone is saying something offensive, illegal, or slanderous, you need to be able to respond, particularly if someone's recommending people use your product in a way that would be dangerous," says Andrew Gilman, chief executive of CommCore Consulting Group, a communications and public relations agency based in Washington.
Some companies have devised spoof marketing campaigns of their own. Blendtec videos feature a goofy-looking guy in a lab coat, throwing iPads and crowbars into its kitchen blenders, and have been viewed millions of times. "Their sales went up 600 or 700 percent" after that campaign commenced, Gilman says. "It's like lightning in a bottle." Dollar Shave Club's lighthearted ad attracted millions of views, too: "Do you think your razor needs a vibrating handle, a flashlight, a back-scratcher, and 10 blades?," its co-founder asked. In March, he told Businessweek the viral video translated into "wildly strong" numbers.
These days, 20-employee Hutzler is promoting the gag reviews through its social media accounts and sales reps. Some of the retail gourmet stores it supplies are also featuring them in their advertising and store displays, Haas says. "They are making fun of it, but the truth is there's a lot to make fun about. Which doesn't mean it's not a good product. Kids love it!"
Before it's here, it's on the Bloomberg Terminal.
LEARN MORE