Facebook Radically Revamps Its Search Engine
By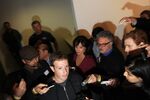 In an effort to make the content and preferences of its 1 billion users more discoverable, Facebook today announced a new feature called Graph Search—a long-awaited effort to improve its previously underachieving search engine. If it catches on with users, the tool, which the company says will move into a limited beta period today for the site's English speakers, could challenge a range of other Internet companies, from archrival Google to ratings services like Yelp, and even video streaming sites such as Netflix.
Graph Search, Facebook Chief Executive Officer Mark Zuckerberg said at a press conference at the company's new headquarters in Menlo Park, Calif., offers a different experience than the kind of Web searches enabled by Google, which can be open-ended and return a range of links. The new feature, at first, will take more precise queries related to four topics—people, places, photos, and interests—and return answers that are constrained by the content and preferences specified by the searcher's community on the social network.
"We are not indexing the Web," Zuckerberg said. "We are indexing our map of the [social] graph." Users can navigate through the 240 billion photos on the network, the trillions of user "likes," and the connections between users. But they can only see content that users have specified as either public and/or viewable to others in their network. Users "want a search tool that can help you get access to things that people have just shared with you," Zuckerberg said.
Reacting to the move and inflated expectations ahead of the press conference, shareholders dropped Facebook stock more than 1 percent in trading on Tuesday morning. The social network has been trying to carve a parabolic path back to the $38 price of its initial public offering last fall. The stock dropped into the teens after the IPO but has recently recovered ground on the strength of Facebook's advertising business and improved mobile offerings.
In an hour-long press conference and a question-and-answer session afterward, Facebook executives demonstrated the new search engine and offered a range of possible examples on how it might be used. Users can type in queries like "who are my friends that live in San Francisco," "photos of my friends before 1980" or "restaurants in Chicago," and the site will pull results from the vast store of posts and preferences uploaded by its users. The content returned by each search will conform to users' privacy preferences, Facebook executives stressed. "The search we wanted to build is privacy-aware," Zuckerberg said, adding that "every piece of content has its own audience." He said 10 percent of the computational capacity in Facebook's data centers is spent doing privacy checks.
When Facebook cannot answer a user's query, it will return results from Microsoft's Bing search engine, as part of a partnership between the two companies that started in 2007. When asked why the company was not working with Google, Zuckerberg said that previous discussions collapsed over Google's unwillingness to accommodate Facebook's privacy needs. For example, he said, Facebook wants its search engine partners to remove certain pieces of content from its index, such as photos, when its users change the privacy setting.
Graph Search could allow Facebook to build some new businesses. When a user types in "music my friends like," "TV shows my friends like," or "restaurants liked by my friends from India," the site returns a range of related media content and local businesses, and each listing includes ratings from friends. The next natural step for Facebook is to give users direct links to friend-recommended movies, TV shows, and restaurants, but Zuckerberg said the company is not currently thinking about making money from Graph Search: "This potentially could be a business over time, but for now we've been focused on building out this user experience. We first need to build something high quality. That is mission No. 1."