Women in Business School: Why So Few?
by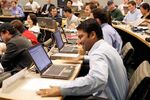 A guest post from Matt Symonds, chief editor of MBA50.com, a website dedicated to the world's outstanding business schools. He is also director of Fortuna Admissions and co-author of ABC of Getting the MBA Admissions Edge.
Some issues just never seem to go away.
Despite all the development programs, mentoring schemes, and family-friendly work environments, the people around major boardroom or partnership tables are still likely to be owners of a Y chromosome and, consequently, a nice, fat bank account.
Women account for only eight of the CEO positions in the Fortune 100, while in the U.K.'s FTSE 100 they are even more scarce, holding down just two of the top jobs. And as Bloomberg Businessweek reported on Jan. 7, post-MBA salaries at graduation are higher for men than they are for women in all but three of the most popular sectors for business school graduates.
Of course, there is some light at the end of the tunnel, no matter how distant it may seem. Optimists point to the fact that in many professions women outnumber men in entry-level positions at graduation, deducing that this is bound to create more women leaders in the long run. After all, the U.S. Congress now has more female members than ever before, so why do we assume this won't eventually be replicated in the world of business?
But with progress so slow toward this laudable goal, shouldn't the classic conduit to the top—the world's leading business schools—be doing more to tip the balance?
At first sight, such schools seem to have no problem with gender diversity. Almost every single photo so beloved of school websites and recruitment literature—students clustered around a laptop, chatting happily in the sunshine, listening earnestly to a professor—has the right balance of men and women. But when you look at the statistics, the reality is a different story.
Women may make up half of the world's population, but they certainly don't account for half of the student body on leading B-school campuses. Among the top schools in the U.S., the Wharton School is closest to achieving the "magic half," with women taking 42 percent of the slots in its full-time MBA program, the fourth year in a row the school has surpassed 40 percent. Director of Admissions Ankur Kumar sees the 40 percent threshold as symbolic, and contributing to a larger discussion about both women in business and women in business school. But she acknowledges that the hard work of achieving gender equity is by no means done—not for Wharton, not for business schools, and not for the business community.
But for an example of a school hovering on the edge of gender parity, you have to look at Europe where the current MBA program at the Dutch institute Nyenrode has hit 49 percent women.
Schools serious about tackling the challenge are increasing the number of campus events and information sessions for women, as well as mentorship programs that engage female alumni and other role models. Schools also need more women academics, including those who head up programs—as at Nyenrode—on the basis that this might reduce any subliminal prejudice against female candidates. More active marketing of an MBA's benefits to less traditional MBA professions, such as HR or creative industries, could also help.
But they also have to tackle a major reason women don't go to business school: bad timing. Unlike other graduate programs, the MBA requires a minimum of work experience—the average is just under four years at many top schools. Returning to the job market in your late 20s with significant student debt and the possibility of starting a family in the years ahead can make the ROI of business school far less attractive.
So what's the answer? Encourage women to apply sooner? Provide more scholarships? Or persuade the banks, consultancies, and multinationals crying out for more female executive talent to back their words with sponsorships?
Whatever the mix, it's worth business schools experimenting in a bid to create a virtuous circle. Because more women testifying to the value of their MBA should in turn attract more women to the MBA. And that could reset the balance of leadership.
Join the discussion on the Bloomberg Businessweek Business School Forum, visit us on Facebook, and follow @BWbschools on Twitter.
Before it's here, it's on the Bloomberg Terminal.
LEARN MORE