Why Golfer Rory McIlroy Will Never Be Tiger Woods
By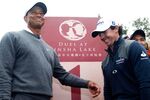 At an extravagant press conference in Abu Dhabi this morning, Nike announced that it had signed 23-year-old golfer Rory McIlroy to a multiyear deal, which will reportedly pay him $200 million to $250 million. "Nike is a company and a brand that really resonates with me," he said. "It's young. It's athletic. It's innovative." The size of the deal—the biggest ever in golf—suggests that Nike believes McIlroy, already the world's No. 1 player, will soon become the face of the sport, supplanting Tiger Woods, who has failed to win a major championship since his personal indiscretions were exposed in 2009.
Given McIlroy's effortless talent, beaming smile, aw-shucks disposition, and celebrity girlfriend (tennis star Caroline Wozniacki), the transition would seem to make sense. It's undeniable that he represents the future of golf. But it's doubtful Nike's investment in McIlroy will produce the Tiger-size returns the company's executives and shareholders are hoping for.
"The fact is, Tiger built that brand," says Bob Dorfman, a sports marketing expert at Baker Street Advertising in San Francisco. "He legitimized Nike as a golfing brand. In that sense, McIlroy will never be equal to that, though he can certainly build and advance the brand and broaden it internationally."
When Nike shouldered its way into the golf world in the late 1990s, it shook up an industry dominated by brands such as Titleist and Callaway, and stuffy stalwarts with names like Maxfli and TaylorMade. Golf shoes looked more like wingtips than athletic wear. Then along came Woods—a multiracial, Stanford-educated prodigy with the physique of an NFL wideout—riding an unprecedented wave of victories and, eventually, a ball with a Swoosh on it. In 2000, Nike signed him to an estimated $100 million deal, which would be renewed for $200 million in 2005.
With Woods reigning supreme, golf enjoyed a spike in popularity that lasted nearly a decade. After his "Tiger Slam" in 2001, when he won all four major tournaments in a row, the PGA Tour was able to sign an $850 million deal with television networks. Tournament payouts rose significantly across the board. (According to the New York Times Magazine, purses swelled by 400 percent.) When Woods missed half the year in 2008, nursing a bum knee, golf ratings plummeted by 47 percent. Since his personal affairs came to light in 2009, the popularity of the sport as a whole has slid. Last year, a poll of prominent sports executives revealed that 53 percent were still most interested in seeing Tiger Woods on TV, whereas only 15 percent voted for McIlroy. In golf, Woods is still the rising tide that lifts all boats.
Nike, well aware of this, is treading into the McIlroy era carefully. Its first ad with McIlroy also features Woods. In full bromantic glory, the two share some friendly banter on a driving range. "Just trying to keep up with the old guy," says McIlroy. "Dude, is that your real hair?" says Woods, who eventually gets the last word in the exchange. This could be the shoe giant's smartest move yet.
"They handled that very well," says Dorfman. "This is a progression that will happen over time. He represents the next generation of golfer, and it's very clear that he's the next golfer for Nike. [But] you can't just kick Tiger Woods to the curb."