pursuits
No Jokes, Please: Starbucks Says Blonde Is Catching On
By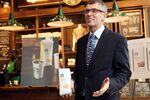 You might have noticed that Starbucks, the company known for its dark, burnt roast (and derided as Charbucks), is promoting a lighter coffee these days. It has been offering free samples of its Blonde Roast and Vanilla Blonde outside some stores and giving away hot Tall Blondes (sorry!) online via Facebook. The company opened pop-up stores in Boston, New York, Washington, Philadelphia, Chicago, and Dallas. It even found people in those cities willing to wear "coffee-filled jet packs" and stand on the streets to serve up more Blonde Roast. And there are free samples in some 8,000 grocery stores around the country, which the company calls its "biggest sampling effort down the aisle in Starbucks history."
Starbucks has spent the past four decades trying to educate Americans about the virtues of its dark roasted coffee. Guess not everyone took to the schooling. When it introduced the Blonde Roast last year, executives said that more than 40 percent of coffee drinkers in the U.S., or some 54 million potential customers, prefer a mild roast. "Even our baristas have friends and family members who won't come to Starbucks because they think our brewed coffee is too dark for them," says Alisa Martinez, a Starbucks spokesperson, via e-mail. What Starbucks didn't say: Many of those millions probably buy their coffee at Dunkin' Donuts or McDonalds, where no one would describe anything on offer as vibrant or bold—or exotic or complex, either.
Starbucks said it tested more than 80 recipes over eight months before finding the right blend for the Blonde. It also apparently tried to prevent its baristas from making jokes about Blondes. (Starbucks denies it did so.) That left only the customers and the media.
But it seems people have been buying the mellower roast. Starbucks said in a press release on Jan. 6 that it's seen "significant success" so far.  (The chain won't discuss sales numbers, but the "incremental" claim in the press release apparently refers to customers who bought packaged coffee for the first time, or added a Blonde purchase in a store.) John Gordon, founder of Pacific Management Consulting Group, which works with restaurant chains that include Dunkin Brands, says he has talked with customers and baristas around the country about the Blonde Roast and found the responses more positive than he expected—and better than some baristas expected, too. "Usually when a brand is known so strongly for one particular product and they go in a different direction, it's a two- to three-year evolution. This really does seem to have taken off faster."
Gordon thinks that the big new year's promotion is just that—a big new year's promotion to get things off to a rousing start. The Blonde Roast, by the way, has just as much caffeine as Starbucks's darker roasts do.
(
Updates with Starbucks denying it discouraged jokes about Blondes.
)
Before it's here, it's on the Bloomberg Terminal.
LEARN MORE