MBA Journal: A Bustling Start to Winter
Cathy Mae Favorito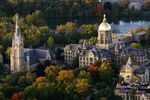 Winter has come to Indiana. The three weeks of summer orientation I went through as an international MBA student at the University of Notre Dame's Mendoza College of Business seem so long ago. It's getting colder and colder, with the sun hardly ever making an appearance. With the chill in the air, my to-do list is getting longer and longer. I certainly never expected business school to be as intense as this.
The MBA program is definitely not "college" the second time around. It's more demanding, more challenging, and more focused. There are classes, exams, case marathons, case competitions, company presentations, career workshops, career fairs, career treks, and internship applications. There are alumni mixers, parties, tailgates, and football games to look forward to. As a naïve first-year, I had joined more than a handful of organizations, plotted to eat lunch at all campus restaurants and dining halls, and resolved to be a devotee of our performing arts center. Well, it's been more than three months, and I now know better. Realizing how little free time I had, I've dropped a few clubs. Most of my lunch breaks are spent attending club meetings or company presentations. I've had my fill of pizza for years to come. I have been to the performing arts center twice, once during the campus tour. Time is of the essence, and the personal management of it is something we first-year students are all working on right now. It all goes by so fast.
So far I am enjoying the ride. I have learned a lot from my professors and classmates and appreciate how professors integrate lessons of ethics and values into their courses. This is what Mendoza is known for, after all, and it's one of the reasons I chose the school. It has been helpful to hear my classmates' insights into how they or their previous employers dealt with issues we discuss in class, and I have been glad to share my experiences, too. I now know how it feels to be part of a case competition and what to do during case interviews. The second-year and one-year students go out of their way to make us first-years feel welcome. They readily answer our questions on case interviews and internship opportunities. Some of us even had the chance to have lunch with our interim dean, Roger Huang, during which we discussed future plans for the school. The small class size of the business school really brings people closer and makes it easier for students to talk to professors and administrators.
I wouldn't be a Notre Dame student without mentioning a word about football. And my classmates and I were happy to witness the fantastic run of the Fighting Irish. Winter is coming, and the Irish are winning. Now that doesn't seem so bad.
Between journal entries, you can keep track of Cathy's business school adventures at the Business Schools Facebook page. Follow the Bloomberg Businessweek B-School team on Twitter.
Before it's here, it's on the Bloomberg Terminal.
LEARN MORE