Live from San Francisco: BBW Design 2013
by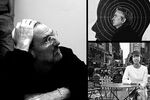 6.06pm – And In Conclusion…
Tony Fadell, founder of Nest, on the necessary components for a successful product:" There are two pieces to designing something new: the rational side, what is this trying to solve. But there's also the emotional side: Wow, I have to have that. When we met our spouses, we knew. There's something different about that person. You want to capture that same exact feeling with the product you're creating."
Things are wrapping up here at the deYoung. Thanks for tuning in. More materials from the conference will be made available on Businessweek.com in the coming days, so come back and see what's happening.
5.45pm – Compassionate Design
Paul Bennett, Chief Creative Officer at IDEO, visited Fukushima in the wake of its nuclear disaster. What he discovered at the homeless shelter was a particular piece of compassionate design: Families were given shelter space in the same configuration as the streets they live on. "Neighbor was next to neighbor. Community was transplanted and restored," Bennett said.
5.19pm – The Final Frontier
In a conversation with robotics designers Masatoshi Ishikawa and Leila Takayama, Bloomberg Businessweek writer Ashlee Vance asked what was the future of robots. Takayama replied, "I think a fully autonomous robot in the home is the final frontier. We started it on Mars and now we just have to bring it closer."
5.01pm – On the Virtues of Google Image Search
For set designer Es Devlin, who has created stages for operas, Kanye West, and the London Olympics, Google image search "is like a dating agency for the imagination." "It doesn't feel like searching for images now," she said. "It feels like thinking."
4.54pm – Never Be the Smartest Person in the Room
From Carl Bass, the CEO of Autodesk, who is currently on stage with Bloomberg TV's Cory Johnson. "The trick is to hire people who are smarter than you. If anyone's the CEO of a company and you're the smartest one there, you've got a bad company."
4.39pm – Fun Facts!
The first cut of Wall-E had 14,000 storyboards.
4.35pm – Constructive Criticism
Johnson on giving notes to colleagues in the midst of a project: "Propose a solution, but give it when they can still use it." Too many times people get advice, but well after it's useful. Try to avoid "If you told me that six months ago…"
4.23pm – Inside Pixar
Michael B. Johnson of Pixar gives us an intellectual tour of how a movie comes to be. Storyboarding is a key part of that process, as is the constant iteration of ideas and scenarios. "Storyboarding is really re-boarding," Johnson says, quoting his late colleague Joe Ranft.
3.38pm – Design vs Stuff
Eric Rodenbeck, founder of Stamen Design, on aesthetics vs data: "It's not the graphic design that we want to pay attention to. It's the stuff. The stuff is far more interesting."
3.16pm – Capturing the Maestro
Steve Duenes, graphics editor at The New York Times, demonstrates the motion-capture-and-video presentation the paper did to examine what an orchestra conductor does during a performance. If you haven't seen it already, it's worth checking out.
2.48pm – Big, Awful Data
During a panel discussion, Martin Krzywinski, a scientist at the BC Cancer Agency, puts a fine point on an issue that we seem to know intuitively, which is that big data is both a curse and a blessing. In genomics, for instance, it's now relatively easy and cheap to capture a human genome but an expensive, daunting problem to analyze it.
"Big data means data of the kind of size we don't want to deal with," he says. "Our lack of capacity to deal with it is built into the definition."
2.32pm – The Way of The Communicator
Alberto Cairo, a professor from the school of communication the University of Miami, has taken the stage with a message about uniting different professions like journalism and computer science. He worked on a project that tracked the spending of Brazilian congressmen on telephone calls over a 10 month period. They pulled this data off a public Web site and found some of the representatives were spending about $6,000 a month – a huge figure in Brazil. This led to a blockbuster story in the local press, identifying "the worst offenders."
"Journalists traditionally have been people afraid of complexity. We have to give up that idea."
2.13pm – Back From Lunch
The conference took an hour for lunch. We're back now, listening to Glenn Cummings from MTWTF (think days of the week, folks) is currently onstage for the Information portion of the day, talking about a project he worked on with New York's 7 subway line and the many areas it travels through.
12.55pm – Where Designers Go Wrong
Gregg Heard, Vice President of Brand Identity and Design at AT&T and Brian Chesky are both designers who are now running companies or divisions. Since they have a background in design, Josh Tyrangiel asked them what bothers them about how designers think:
Heard – "They're not sure about the problem they're trying to solve. It becomes more about textures and surfaces."
Chesky – "They lose touch with who they're designing for. They also have to be more collaborative. For me, simplicity is not about removing, it's about connecting."
12.44pm – Design Grows Up
Brian Chesky, co-Founder and CEO of Airbnb, on coming from a design background to start a company. "At RISD, they teach how design can function in the boardroom. I wondered what would happen if design ran the boardroom."
12.38pm – Garage Days Re-Revisited
Scott Summit, founder of 3D-printing company 3D Systems, on the promise of individuals enabled with personal 3D-printing machines: "It's a way to get people back to using their hands. It gets people away from their TVs and iPads and back into the garage. Trying and failing and trying again. Creativity in this country comes from individuals. Half the patents in the US aren't held by corporations, they're held by people."
12.24pm – Best Quote of the Show
From designer Patricia Urquiola: "I needed a time machine, but there was no time machine."
11.55am – Small Is the New Big
Anthony Sperduti, of Partners & Spade: "The bigger a brand is, the smaller it should act. Brands need to get personal." Sperduti goes on to describe their response to J Crew's request to help rebrand their menswear collection. Their fix was not some large-scale effort, but setting up a dedicated men's store in Tribeca in a converted liquor store and bar. The store went on to get tremendous media coverage worldwide and, according to Sperduti, "the [store's] rent cost less than half of what a billboard would have cost in Tribeca."
11.42am – Some Trans-Atlantic Smack Talking
Swiss designer Yves Behar, who works on projects as diverse as Nivea's branding and Jawbone's products, speaks to the "sea change" that's happened in US companies around design. "We're more about design today in the US in some ways than European businesses are." Oh, it is ON.
11.23am – Floating Words from Stephen Doyle
Stephen Doyle shares his work on making words "float" in space. Viewed one way, the images appear superimposed, but shift your angle and you realize the words have been applied to various interior surfaces to render a three-dimensional image.
11.14am – The Perils of Redesign
Bloomberg Businessweek Design Director Richard Turley opens up the next session, which focuses on redesign. He examines the negative response that can come with change. "The pressure to innovate can leave the reader, the consumer—us—a bit pissed off. We like the Gap logo as it is, thank you very much."
10.51am – Favorite Cities
In a roundtable discussion, the participants in the first part of the conference were asked what city inspires them. Here are some of their answers:
Peter Walker, Founder of PWP Landscape Architecture – Basel. "Everyone walks."
Thom Mayne – Barcelona. "You can get to the beach in 20 minutes by Metro."
Giuseppe Lignano – Tokyo "I really love the idea that the large contemporary city has a different kind of rhythm that needs to be expressed."
Ada Tolla – Tokyo and Venice. "You can fall in the water at any point. There are no hard edges. Tokyo for me is like the same for me, but vertical."
Jeanne Gang – Rio. "It's got the right bones. For a small city: Greenville, South Carolina. It's a small city that's really investing in its riverfront."
10.27am – Sadik-Khan Brings the Funny
"We found that at any given time, 10 percent of New Yorkers admit to being lost. And that's just the ones who admit it, so it's probably just women." (Rimshot!)
10.17am – Repainting the City
Janette Sadik-Khan, New York City's Commissioner of the Department of Transportation on the problems affecting Times Square: "90 percent of Times Square had beed dedicated to cars. Our streets have been in suspended animation for 50 years… People don't come to Times Square to see the traffic."
9.58am – Los Angeles by the Numbers
Interesting facts about Los Angeles, courtesy of Thom Mayne: It has the population of Holland. It is twice as big as Switzerland. It has the ecological footprint of Peru.
9.35am – LOT-EK's Policy of Containment
Ada Tolla and Giuseppe Lignano, founders of architecture firm LOT-EK, are showing a residential project, Carroll House in Brooklyn, NY, constructed out of shipping containers. The containers are stacked and cut on a diagonal, creating a single-family home. The design is awesome: check it out here.
9.28am – Expanding Infrastructure
Jeanne Gang wants to "expand our definition if infrastructure to go beyond bridges and roads and incorporate ecological diversity, compact vertical cities, and strong, just communities."
9.12am – Opening Remarks
Bloomberg Businessweek editor Josh Tyrangiel on why this conference is taking place, and why it's coming to you from a magazine that covers the world of business. "Design used to be the icing on the cake. But many companies are now realizing that design is the cake." Cellphones have been muted, and the event is underway with the first presentation from architect Jeanne Gang.
9.00am – Microphone Check
We're here at the deYoung Museum in San Francisco, where our first Design Conference is about to start. Luminaries from the worlds of architecture, engineering, science, and graphic and industrial design have gathered here for a day's worth of conversation, enlightenment and free food.
The first panel—on cities and how to make them more resilient, more liveable, and more sustainable—will begin in minutes. Please check back here over the course of the day for updates and highlights.
Before it's here, it's on the Bloomberg Terminal.
LEARN MORE