Is Michael Dell Finally Taking His Company Private?
by and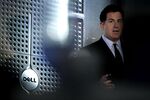 On June 3, 2010, Michael Dell was sitting before a room full of analysts and investors at a Sanford C. Bernstein conference in New York City. Dell was asked whether he ever thinks about taking his computer company private. His simple answer: "Yes." The stock closed at $13.76 a share that day, up almost 5 percent.
Dell took no more questions at the time, though obviously he's since come to a decision: As our Bloomberg News colleagues Serena Saitto and Jeffrey McCracken have just reported, citing two unnamed sources, Dell is in talks to go private.
That the company finds itself in this situation is not much of a surprise. Michael Dell returned as chief executive officer in early 2007 and has spent the last few years promising a shift toward higher-profit businesses and away from being so dependent on PCs. According to recent data from Gartner (IT), Dell's PC sales slowed by about 20 percent in the fourth quarter, as the company lost ground to Hewlett-Packard and Lenovo. PC shipments overall fell 5 percent during the quarter, to 90.3 million units.
In the meantime, Dell has become an acquisition machine, gobbling up storage system specialists, software makers, and services companies, including its flashy $3.9 billion deal for Perot Systems. Its revenue has become more diverse, and some of these big bets have started to pay off. Wall Street, however, has continued to push its shares down—Dell's market value fell 31 percent last year—seeing the company as tied to technology that's past its heyday.
The notion of Dell going private has been floated time and again. Michael Dell still owns almost 16 percent of his creation, according to the most recent filings, and the company continues to earn substantial profits.
The knock on Dell is that it's hard to see how it can deliver a more exciting future. The company's strategy hasn't looked all that original. It's essentially trying to become more like IBM and Hewlett-Packard by having a more diverse product and services portfolio. Its rivals, though, headed in this direction years ago. (And, as our recent cover story showed, things haven't worked out terribly well for HP.) Dell has argued that it can cater to smaller and midsize companies better and perform services work, for example, cheaper than its much larger competitors.
Going private would carry with it some measure of embarrassment for Michael Dell. For years he was held up as an entrepreneurial hero who forged the company from a college dorm room. During Dell's glory days and Apple's darkest hour, Michael Dell infamously suggested Apple should go private and return the money to shareholders rather than continuing on as a going concern. Apple, of course, came up with the mother of all second acts with the iPod—and then a third and fourth with the iPhone and iPad, respectively.
Will Michael Dell's latest move give his company a glorious second act? It's not impossible, but it sure won't be easy, as San Francisco-based analyst Shaw Wu told Bloomberg Businessweek back in June 2010. Going private "really doesn't change anything, because the fundamental disadvantages don't go away," Wu said. "The competitors are still there."
Before it's here, it's on the Bloomberg Terminal.
LEARN MORE