Noyer and Draghi, Consider Wyplosz
by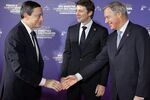 Still, it is not clear today—in a world of abundant liquidity, low interest rates and historically low spreads—that markets are correctly evaluating the risks linked to the explosion in derivatives and leveraged operations over the last five years, Noyer cautioned. The risk of default somewhere in the chain of borrowers is "always possible" especially if the cost of liquidity rises.
—Banque de France's Noyer: "US Debt Crisis Unlikely, But Other Risks Exist," MNI, July 6, 2007
"This financial crisis represents a test to the euro and the euro system," Noyer said at a conference in Kuala Lumpur today. "I can say that the ECB has successfully surmounted the financial crisis to date. The close cooperation between the ECB and national central banks enables us to make comprehensive analysis of the causes and solutions."
—Shamim Adam and Nipa Piboontanasawat: "Noyer Says ECB Successfully Surmounted Crisis to Date," Bloomberg News, Feb. 11, 2009
"The euro area is advancing in the right direction," Noyer said in Madrid today. The ECB's policies act "as a bridge" and "our efforts must be continued relentlessly."
—Angeline Benoit: "Noyer Says Euro Area Is on Right Path, ECB Policy Acts as Bridge," Bloomberg News, Nov. 16, 2012
There is no easy option for the Eurozone after three years of deep mismanagement. Governments will not accept drastic action unless forced to. This means that we need another round of crisis worsening.
—Charles Wyplosz: "Happy 2013?", voxeu.com, Jan. 4, 2013
"Noyer" is Christian Noyer. He is the Governor of the Banque de France. He is more than able, and I by no means should pile on with 20/20 hindsight over the above comments—pre-crisis, post-Lehman, and recent.
Note that this most-public official absolutely nailed with Roubiniesque wisdom early July 2007 caution. (Roubiniesque is in Larousse, so get over it; Audrey Hepburn used it with Cary Grant in Charade.)
Europe enjoys a glimmer of hope this mid-January 2013. Noyer has pounded the table upbeat; now European Central Bank President Mario Draghi seems to suggest Noyeresque joy.
Beware. Read Professor Wyplsoz's op-ed in its entirety. He destroys their finally old-normal joy.
Crisis Over? Noyer & Draghi, meet Wyplosz. Discuss.
Before it's here, it's on the Bloomberg Terminal.
LEARN MORE