CBS Puts CNET on Mute Over Dish DVR Lawsuit
by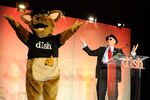 CNET, one of the more widely read tech-review sites, just got kneecapped by its corporate parent, CBS.
See, if you're CNET, then you're surely interested in Dish Network's latest offerings at CES. The satellite TV provider recently showed off some significant upgrades to its Hopper DVR, which allows viewers to automatically skip commercials in prime-time network programming. What's new for 2013 is that EchoStar, which makes the hardware that runs on Dish's network, has incorporated the TV gadget Slingbox (which EchoStar bought in 2007) into the device, now called Hopper with Sling. The combination lets you stream live or recorded programs to an Internet-connected mobile device. And with the new Hopper Transfers feature, you can also download shows that are on your DVR to your iPad for later offline viewing.
That's a pretty hefty set of features. But you might see where this is going: If you're offering commercial-skipping and the ability to watch live or recorded content wherever you like, you can be sure that entrenched interests in the TV industry might get a little colicky. After all, companies like ABC, CBS, NBC, and cable operators have an incentive to keep things as they are, and allow remote viewing only through consortiums like Hulu.
And so, you sue Dish. Which is your right. But if you're CBS, you also instruct your CNET division to lay off any further reviews of their products. On Jan. 7, CNET published a very positive review of the Hopper with Sling. In it, the tech-review site praised the product, calling it "an impressive, very full-featured DVR system that borders on having almost everything you could possibly want."
But when it came time for CNET to reveal its annual Best of CES winners, this legalese was found at the bottom of the list:
The Dish Hopper with Sling was removed from consideration due to active litigation involving our parent company CBS Corp. We will no longer be reviewing products manufactured by companies with which we are in litigation with respect to such product.
Earlier this month, this magazine called Dish "the meanest company in America." That may still be true, but in this case, the company's meanness is in service of consumers. As FDR is alleged to have said about Nicaraguan dictator Anastasio Somoza Garcia, "He's a son of a bitch, but he's our son of a bitch."
Oh, and with its heavy-handed squashing of further CNET coverage, CBS appears to be gunning for the No. 2 spot on that list.
Before it's here, it's on the Bloomberg Terminal.
LEARN MORE