World Bank Focuses on Climate Change in Hunt For Fresh Strategy
Sandrine Rastello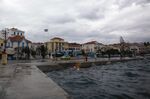 The World Bank can make a difference in areas such as climate change, education and health, President Jim Yong Kim said, as he crafts a strategy for the poverty-fighting lender.
Having spent his first six months in the job listening to the staff and board of directors, Kim said he is taking steps to make the bank less bureaucratic. Asked by the organization's 188-member countries to be more selective on the projects it undertakes, Kim now has to prioritize its efforts and make "tough choices," he said.
"We can't be all things to all people," Kim, 53, said in an interview at the bank's headquarters in Washington yesterday. "The questions we have to ask are 'where are the areas in which we can add the most value, where are the areas in which we can't add value.'"
A physician by training and the former president of Dartmouth College in Hanover, New Hampshire, Kim in July took over an institution created at the end of World War II to help rebuild ravaged Europe. Now focused on developing countries, it committed $53 billion last year on projects from building roads to supporting education policies, and has expanded its scope to taking equity stakes in companies and guaranteeing investments.
As more borrowing countries such as China get access to private capital and sometimes become lenders in their own right, one of Kim's challenges is to keep the bank relevant for its knowledge and expertise.
'Development Stakeholders'
"In today's world we have many more development stakeholders, so there's no need for a single agency to try to do everything," said Homi Kharas, who worked for 27 years at the bank and is now a senior fellow at the Brookings Institution in Washington. "It's far better to try to do some things and to try to do them really well."
For instance, Kharas said, the bank has already had a "big impact" with a November report on climate change.
The study said that the world risks "cataclysmic changes" caused by extreme heat waves, rising seas and depleted food stocks as it heads toward global warming of 4 degrees Celsius this century.
"The response was quite surprising," Kim said. "It was as if 'we've heard this all from the environmental groups but my goodness, if the World Bank tells us this is an issue then there must be something different to the story.'"
The bank is helping countries assess and manage risks from climate change. It provides financing for renewable energy and administers climate investment funds, which promote technologies to reduce greenhouse gases, slow deforestation and increase renewable energy.
'Master Plan'
Kim said the lender has a role to play in helping define a "master plan" that will avoid the temperature increase and applying its own lending and advice.
While the bank's future strategy is still in the works, Kim has already made a decision that's a new direction for the bank by assisting more developed nations. He accepted a request by Greece for technical help to improve its business climate as it works to resolve its debt crisis.
Donning a tie with the bank's logo and motto -- "our dream is a world free of poverty" -- Kim said improving the staff's morale and starting internal changes to respond to their feedback were necessary first steps in his tenure.
A key part of that, Kim said, was an internal survey assessing the organization. Slides of the results, including "all the dirty laundry," are exhibited within the headquarters for staff to see and leave comments.
Diagnosis Agreement
"The reason I did it was to say let's agree on the diagnosis," he said. "'Here are the things about the bank we like, here are the things we don't like, here are the things that we have to change.'"
In contrast to his predecessor, Robert Zoellick, Kim is more of a "people person," Kharas said.
Employees can sign up to have lunch with Kim. He has held two retreats with executive directors. He had a reception hall, with its wooden panels and chandeliers, transformed into an open working space where senior bank officials are encouraged to meet and collaborate. Kim's desk is in the middle.
"I tell everybody if I'm there, that means I'm interruptible," he said. "It's something that's so new to this culture that people have been very reluctant to do it."
To transform the institution, Kim is getting outside help, including from Michael Porter, a professor at Harvard Business School, on the strategy. He's also seeking advice himself from leadership coach and author Marshall Goldsmith.
Ultimate Goal
The ultimate goal, he said, is to create an institution that is faster, more unified and responsive to its members. "Much of what we do looks like a big bureaucratic public sector organization that can't get out of its own way," Kim said.
As he visited the World Bank's country offices, Kim said, he kept hearing that the organization needed to focus on processes, to be more nimble.
Remaking the bank internally "is not a 10-year project. We want to do it quickly and effectively so people on the ground can actually see and feel the bank has changed," he said.
Being at the helm of one of the top development institutions in the world is a culmination of Kim's career, which is steeped in medicine and social justice. He holds degrees in medicine and anthropology from Harvard University, in Cambridge, Massachusetts.
He co-founded Partners in Health, a nonprofit organization that has opened clinics in countries including Haiti and Peru. He ran the Department of Global Health and Social Medicine at Harvard Medical School and served as director of the World Health Organization's HIV/AIDS department.
"I came in here with the sense that if we can make the World Bank work more effectively," he said, "then we could have an enormous impact."
Before it's here, it's on the Bloomberg Terminal.
LEARN MORE