Obama Picking Lew for Treasury Fuels Fight on Budget
Hans Nichols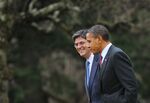 President Barack Obama's choice of White House Chief of Staff Jack Lew to be his next Treasury secretary may open a battle over the president's tax and spending priorities for his second term.
Obama plans to announce Lew, 57, as his pick to replace Timothy F. Geithner, at 1:30 p.m. Washington time today, according to a person familiar with the process.
White House press secretary Jay Carney declined to comment on Obama's selection for Treasury while calling Lew "an extremely valuable adviser to the president."
The nomination is subject to confirmation by the Senate, and some Republicans in the chamber have indicated they're eager for an early showdown with the administration over the budget and raising the federal debt limit.
Senator Jeff Sessions, an Alabama Republican, said in a statement that Lew is a bad choice for Treasury secretary because he made "outrageous and false" statements to Congress that Obama's budget wouldn't add to the national debt.
"We need a secretary of Treasury that the American people, the Congress, and the world will know is up to the task of getting America on the path to prosperity, not the path to decline," he said in a statement. "Jack Lew is not that man."
While bracing for a potentially contentious nomination process, Democrats expressed confidence that Lew, who twice served as director of the Office of Management and Budget, would be confirmed by the Senate, where the party controls 55 of 100 votes.
Political Points
"If the Republicans choose to make this a controversial nomination it will only be because they want to score political points," Jim Manley, a former aide to Senate Majority Leader Harry Reid, said of Republicans. "Jack has been confirmed twice and I expect him to be confirmed a third time."
Geithner, 51, the only remaining member of Obama's original economic team, has told White House officials he doesn't want to serve in a second term and intends to leave the job by the end of the month.
The next Treasury secretary will play a leading role in working with Congress to raise the government's $16.4 trillion debt ceiling. The U.S. reached the statutory limit on Dec. 31, and the Treasury Department began using extraordinary measures to finance the government. It will exhaust that avenue as early as mid-February, the Congressional Budget Office says.
Congress and the administration also face negotiations over automatic spending cuts set to kick in March 1, extending funding for government operations and trimming entitlement programs.
Treasury's Purview
"Social Security, Medicare and taxes fall directly into the Treasury secretary's purview," said Stan Collender, a former staff member of the Senate and House budget committees and now a partner at Qorvis Communications in Washington. "You got to look at this job as not just being secretary of the Treasury but being the chief economic policy maker. And that's what he brings."
Brian Jacobsen, chief portfolio strategist at Wells Fargo Funds Management in Menomonee Falls, Wisconsin, said he's concerned by the prospect of Lew's nomination.
"He's very divisive. He doesn't play well with Republicans," Jacobsen said. That may lower the chances of a comprehensive bipartisan resolution of the debt ceiling, looming automatic spending cuts and an agreement to keep funding government operations, he said.
Single Fight
"Lew might end up pushing for them to be dealt with one-on-one in hand-to-hand combat," he said. "I think Obama will wind up winning those. It's just you'll wind up having three fights instead of one big resolution."
Obama has other high-level posts to fill for his second term. Labor Secretary Hilda Solis announced yesterday she submitted her resignation. The president also will be naming a commerce secretary, an Environmental Protection Agency administrator, a U.S. trade representative and a director of the Office of Management and Budget.
Attorney General Eric Holder, Health and Human Services Secretary Kathleen Sebelius and Veterans Affairs Secretary Eric Shinseki all plan to remain for at least part of the next term, according to a White House official, who asked for anonymity because the decisions haven't been formally announced.
Lew would be Obama's third Cabinet choice so far since winning re-election. On Dec. 21, he announced his choice of Senator John Kerry, a Massachusetts Democrat, as secretary of state, replacing Hillary Clinton. On Jan. 7 Obama said he would nominate former Republican Senator Chuck Hagel as defense secretary.
Replacing Lew
Among the leading candidates to replace Lew as Obama's chief of staff are Denis McDonough, currently a deputy national security adviser, and Ron Klain, who had served as Vice President Joe Biden's chief of staff, according to people familiar with the administration's plans.
As a former aide to the late House Speaker Tip O'Neill, a Massachusetts Democrat, and a two-time director of the Office of Management and Budget, Lew has experience on both ends of Pennsylvania Avenue.
He's spent most of his career in government, with a brief detour to Wall Street, where he worked as a managing director for Citigroup Inc. from July 2006 until joining the administration as deputy secretary of state for management and resources when Obama first took office.
Lew served as Obama's director of the Office of Management and Budget from November 2010 to January 2012. He held the position previously from July 1998 to January 2001, in President Bill Clinton's administration.
Before it's here, it's on the Bloomberg Terminal.
LEARN MORE