Major League Baseball and T-Mobile Reinvent the Bullpen Phone
Through the miracles of modern science, it will work a lot like the old one
by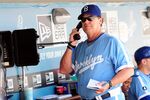 It's a sight familiar to any baseball fan: the manager with the dugout phone to his ear. The manager's face is always in the same gruff expression. And the handset is always in the classic Western Electric style. Starting next season, however, stone-faced managers will be able to call the bullpen on a Samsung Galaxy 3 operated by T-Mobile. On Jan. 8, MLB announced a "multi-year, multi-million dollar partnership" with the mobile carrier that includes new bullpen phone technology for teams. Instead of swinging open a box like a Bell lineman of old, managers, at least at ballparks that opt for the new system, will pull one of four handsets from a pink rack like the one T-Mobile showed off at the Consumer Electronics Show.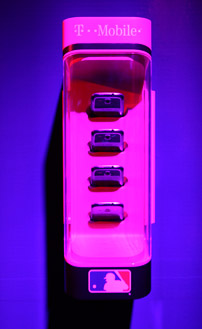 Why would baseball introduce touchscreen smartphones for managers to tell bullpen coaches to warm up a lefty? The need, after all, is for brief, secure voice calls between two fixed points about 500 feet apart, preferably without making anybody look like a gossiping teenager. A wire (usually) does the job. Joe Garagiola Jr., MLB's senior vice president for standards and on-field operations, says the league told T-Mobile to use the traditional landlines as a template. "You pick one up; the other one rings. You can't call out. You can't call in. That's where we needed to be. So that is essentially where we are," Garagiola says.
To get there, however, T-Mobile had to shackle its mobile technology. "We always design our networks so they capture and serve as many customers as possible, so what we've done in this case is actually lock features down and disable them," says Mark McDiarmid, vice president for radio engineering at T-Mobile.
The bullpen system uses "geofencing" as a kind of cord to keep the phones from working when removed from the bullpen or dugout. To prevent interference and dropped calls in a notoriously demanding wireless setting, T-Mobile will install picocell base stations and small antennae in both sets of dugouts and bullpens that will send signals over a reserved slice of the company's radio spectrum. "Effectively what we're doing is using a little piece of spare real estate," says McDiarmid. And running, you might say, an invisible wire across it.
Yet the new system is not, Garagiola insists, just a fancified version of the decades-old one. A little bit of added mobility, he says, can mean a lot. "In a number of ballparks, there is a considerable distance between where the pitcher is warming up and where this phone is," he says. "Now the bullpen coach can be talking to the pitching coach while he's standing right behind the pitcher, as opposed to either looking from a distance or saying, 'Let me put the phone down and go run over there, and I'll come right back.'"
Saving bullpen coaches a few paces is nice. So is capturing new revenue. According to Eric Smallwood, an analyst at Front Row Marketing Services, the average baseball broadcast features five calls to the bullpen—each captured by TV cameras. That airtime adds up to $6.7 million in potential advertising value during national games on Fox, ESPN, and TBS, plus another $8.5 million for the phone calls' exposure during games on regional networks. Not every team will install the new system. The Chicago White Sox, who play at U.S. Cellular Field, probably aren't on board. So T-Mobile will not reap all of that. But the phones are part of larger deal that includes airtime with all of MLB's national broadcast partners. "It's a great opportunity to tie in," says Smallwood. "What better way to align your product?"
Before it's here, it's on the Bloomberg Terminal.
LEARN MORE