Joe Biden's 'First Date' With the NRA
By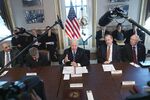 Vice President Joe Biden's private meeting on Thursday with representatives of the gun industry and the National Rifle Association was notable for its polite tone—and its lack of substantive surprises.
Biden told the pro-firearm lobbyists that he plans to give President Obama a list of gun-control recommendations by Jan. 15. He said that the president has already made up his mind to propose that Congress restrict the sale of military-style semiautomatic rifles similar to the one used in the Dec. 14 massacre in Newtown, Conn., according to Richard Feldman, head of the Independent Firearm Owners Association, who also participated in the White House meeting. Feldman said that Biden clearly indicated that Obama has decided to urge Congress to pass legislation that would ban the sale of large-capacity ammunition magazines. These are initiatives the NRA and Republican allies in Congress have vowed to fight.
At one point, according to Feldman, a member of the pro-gun contingent quipped that the meeting constituted a "first date" between his side and the administration. Biden responded: "You never know if there's going to be a second date." In a statement, the NRA said it was "disappointed with how little this meeting had to do with keeping our children safe and how much it had to do with an agenda to attack the Second Amendment."
Representing the NRA was James Baker, a longtime senior lobbyist for the group. Steven Sanetti, the head of the National Shooting Sports Foundation, represented gun manufacturers, distributors, and marketers. The NSSF, which happens to be based in Newtown, is scheduled to hold its annual trade show next week in Las Vegas, an event that usually draws more than 50,000 people who make and sell handguns, rifles, and ammunition.
The administration held a series of meetings on Thursday, including separate sessions with outdoors groups, representatives of the entertainment industry, and retailers such as Wal-Mart Stores, the largest seller of firearms in the U.S. Attorney General Eric Holder led the meeting with retailers. One issue that came up at both the gathering with gun-rights lobbyists and Walmart was the administration's desire to push for universal background checks for all gun purchases. Walmart and other federally licensed firearm dealers are already required to conduct background checks. However, private collectors who are not licensed do not have to perform the checks when they sell guns under current law.
The White House has already said that its package of legislative proposals will include steps to boost mental-health programs in schools and reduce the glamorization of violence in popular entertainment. "It's not just a gun-control problem," White House spokesman Jay Carney said on Wednesday. "It goes beyond that."
Before it's here, it's on the Bloomberg Terminal.
LEARN MORE