Cultivating a Better Food System
Danielle Nierenberg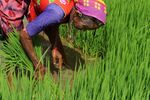 At the Barilla Center for Food & Nutrition's conference in Milan this fall, Guido Barilla, president of the 135-year-old food company that funds the nonprofit organization, talked about the importance of companies having "a double responsibility." In addition to making a profit, he said, they need to take responsibility for the impact their products can have on the world, particularly the food system.
In May, Raj Shah, a physician and head of the U.S. Agency for International Development (USAID), told a conference attended by President Obama, African heads of state, and Bono that it will take private enterprise to help address the global food crisis—whether it's worldwide obesity or hunger. Governments can't do it alone, he said. Public-private partnerships are needed to make sure everyone has access to safe, healthy, sustainable, and affordable food.
Some companies have committed to that effort. Wal-Mart, the world's largest retailer, for example, plans to sell (not without controversy) $1 billion in food sourced from 1 million small and midsize farms. And public-private partnerships are a key part of the World Economic Forum's New Vision for Agriculture. Monsanto, Pepsico, Bunge Limited, Cargill, and other corporations have pledged to be part of the program, which will work to help countries "by aligning investments, programs, and innovations around shared priorities for agricultural growth."
These efforts are commendable, but they're not the only paths toward change. Just as governments can't do it alone, we can't be dependent only on support from multinational corporations to improve the food system. Advancements in food security can't be dependent on "either-or" approaches that focus solely on government-led projects or private investment. Investments, large and small, from a variety of stakeholders are needed to make agricultural development economically and environmentally sustainable. Governments—especially in African nations—need to strengthen small and medium-scale agriculture in their own countries. Businesses, governments, NGOs (nongovernmental organizations), and producers need to find ways to work together to make agriculture more resilient and sustainable.
We may need major corporations to provide research, infrastructure, and other services for agricultural development, filling a hole left empty by governments in developing countries. But when major corporations are the only stakeholders providing the services for agricultural development, there are potential risks, including forcing technologies, partnerships, and policies on farmers because it's profitable for their own bottom lines, leading to dependence on one company or product and a potential loss of agricultural biodiversity.
Investments might be better spent on innovations that are already in place. These aren't the big-ticket items—biotechnology and high-tech machinery, for example—that companies and funders think are sexy. They tend to be low-tech, high-impact innovations with tremendous potential for replication and scale. Local ideas and solutions, in some cases, can be just as powerful as monetary investments from big corporations.
Maïmouna Coulibaly, the owner of Faso Kaba Seed Co., for example, does something that many seed dealers in Mali and other parts of sub-Saharan Africa don't do—she keeps her prices low enough for small, cash-scarce farmers. Instead of packaging seeds in large volume, Coulibaly provides seeds of sorghum, rice, millet, maize, ground nuts, cowpeas, and beans in various size packages, making them easier for farmers to buy and use. Thanks to Coulibaly, farmers are able to buy local seed, instead of importing from the West.
In India, the Self Employed Women's Association (SEWA) is teaching women farmers how to grow grains, vegetables, and fruit using compost and natural pesticides. But their work doesn't stop with food production. In the Indian city of Ahmedabad, SEWA members are packaging and selling their own rice, spices, and other products door-by-door to poor urban residents at competitive prices. These foods tend to be higher-quality than those usually available to low-income consumers, creating better access to safe, healthy food at a reasonable price.
These aren't isolated examples—school feeding programs in Ghana, locally run commodity exchanges in Zambia, waste reduction innovations in Bolivia, and urban farming projects in Vietnam—are all creating opportunities to increase incomes, improve food security, and protect the environment.
Corporate involvement in the food system and public-private partnerships will likely become a bigger part of agricultural development. There's too much at stake—politically, socially, and financially. But these aren't the only tools available for increasing food security over the long term. Many of the solutions already exist—in fields, laboratories, and kitchens around the world. Strategies that are low-cost are already working. They simply need more research, more attention, and, ultimately, more funding and investment.
Before it's here, it's on the Bloomberg Terminal.
LEARN MORE