Coding to Cut Red Tape for Startups in Santa Cruz
by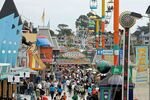 American small businesses hate red tape. About one in five called regulations their biggest problem in the latest survey by the National Federation of Independent Business. While Washington business lobbyists often blame federal labor and environmental rules for stifling business, many Main Street companies find themselves jumping through regulatory hoops closer to home—in some basement office at City Hall, with a stack of forms trying to get a zoning permit.
Santa Cruz, Calif., is trying to make that process easier. The city unveiled a smooth new website Wednesday designed to walk business owners through the permits, licenses, and approvals they need to make their businesses follow local rules. The app was a project of Code for America, a nonprofit that recruits smart young programmers to write software that make cities work better. The group, which has worked on school bus trackers and fresh food directories, hasn't tackled business permitting before.
"I think of it as a kind of TurboTax for business creation and business permitting," says Joel Mahoney, Code for America's tech evangelist, who helped build OpenCounter. The name is a nod to the tricky hours the planning department keeps: Monday through Thursday, before noon. (Like the rest of California, the city's budget for such things is limited by Prop. 13.) Hilary Bryant, Santa Cruz's new mayor, says the restricted hours were challenging when she and her husband opened a veterinary hospital in town over a decade ago. "Typically a small business owner is working during the hours that the city is also working," she says.
I took the website for a test drive Wednesday morning to find out what it would take to open, say, a seaside ice cream parlor. Even simplified through a clean Web interface with lots of comforting white space, the process was daunting. Among the many sign-offs I'd need: a zoning clearance ($221), a sign permit ($259), and a business license ($145.14, plus per-employee fees). I'd have to get my staff registered for food handler training, get a seller's permit from the state of California to collect sales taxes, and a building permit to renovate my shop. Such are the costs for the privilege of selling frozen dairy products to the people of Santa Cruz.
Opening a restaurant still might take seven or eight months, says Peter Koht, the city's economic development coordinator. The new site should take some of the pain out of the process by telling people, "Here are the pitfalls," he says.
Santa Cruz, with a population of about 60,000, processes about 250 business permits per year, Koht says. While much of OpenCounter is particular to the city's local laws, Code for America's hope is that it can be adapted for other municipalities. As with all the group's projects, the software is free for others to borrow and build on.
For Bryant, making Santa Cruz inviting to small businesses is essential. "It's not a community where we expect to bring in large manufacturing firms," she says. The economy depends on supporting a mosaic of small ventures, from solo tech consultants to plumbers to accountants to ice cream shops. OpenCounter "really changes that conversation from people getting frustrated with the process to feeling like we're trying to work with them," she says.
Before it's here, it's on the Bloomberg Terminal.
LEARN MORE