B-School News Roundup: MBA Pay Falters at Many Schools
Alison Damast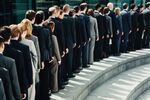 For Newly Minted MBAs, a Smaller Paycheck Awaits (Wall Street Journal): Students graduating from second- and third-tier MBA programs are increasingly finding that their degree is getting them only so far in the marketplace, with many having to settle for jobs with less than lucrative paychecks. Graduates with fewer than three years of work experience can expect to earn median pay of $53,900 in 2012, down 4.6 percent from 2007-08, according to a PayScale.com analysis conducted for the Wall Street Journal. Making matters worse, recent graduates find themselves saddled with higher debt loads than ever, as tuition for business schools has climbed about 24 percent over the past three years.
China Cracks Down on Academic Fraud (International Business Times): China is cracking down on cheating after a series of plagiarism and research scandals were discovered at some of the country's leading universities. The new regulations put into place more stringent punishments for cheating, such as revoking cheaters' degrees or banning them from applying to higher education institutions. Cheating in China has been a hot topic in the business school world in the past five or six years, with such outfits as the Graduate Management Admission Council trying to crack down on Chinese websites that illegally provide GMAT material to test-takers, and a widespread cheating scandal at Duke University's Fuqua School of Business in 2007, in which some of the students expelled from the school were from China.
Catholic University Launches Business School (Washington Business Journal): The Catholic University of America is launching a business school with a teaching philosophy that will explore the intersection of the business world with character building, morals, and religious values. The school has been teaching its undergrads business through classes in the School of Arts & Sciences but has been toying for the past three years with the idea of adding a new business school to the university's portfolio. The new B-school will take a different approach to ethics than most business schools today: Rather than relegating ethics studies to one or two courses, all the classes will have an emphasis on service and character, with Catholic thinking permeating the curriculum, the school says.
How to Choose MBA Elective Courses (U.S. News & World Report): Students entering top business schools today have many options when it comes to choosing electives. The University of Pennsylvania's Wharton School touts nearly 200 electives on its website, Columbia Business School offers even more, and the University of North Carolina, Chapel Hill's Kenan-Flagler Business School has well more than 125. Students should be thoughtful about what electives they ultimately sign up for and think long term about how these classes can best help them as they move up the career ladder, business school professors and deans say. Some of the most useful areas they can focus on are globalization, presentation skills, ethics, nonprofit management, and entrepreneurship, they say.
Schools Doing Background Checks on Admits (Poets & Quants): Business schools aren't taking any chances on the authenticity of admitted applicants these days. A growing number of institutions are conducting detailed background checks as a routine part of the application process. Admissions officers at schools say they are outsourcing this job to companies that specialize in this area, including Kroll and Re Vera, which verify such things as student's degrees, job history, and salary information. The background checks rarely result in revocation of admission offers but help schools avoid those rare cases when students misrepresent themselves in their application, schools say.
Join the discussion on the Bloomberg Businessweek Business School Forum, visit us on Facebook, and follow @BWbschools on Twitter.
Before it's here, it's on the Bloomberg Terminal.
LEARN MORE