HBO's Girls  Hits Stores With Promotions
by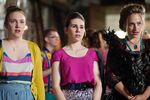 To hype this Sunday's season premiere of Girls, HBO has partnered with retailers such as Urban Outfitters and SoulCycle, producing a slew of Girls-themed nail art and spin classes intended to reach viewers far from their televisions. As traditional TV advertising is not as effective as it used to be, "There's no question that advertisers are looking for other ways of reaching people, whether through mobile or other venues like retail," says Russell Winer, chair of the department of marketing at New York University's Stern School of Business.
The HBO show is just the latest to go retail. Banana Republic sells a Mad Men line of clothing, and Sons of Anarchy, the FX show about a biker gang, licensed its name to jewelry makers. Says Winer: "It might be strange to think of a retail environment as medium, but in fact it is. There are in-store videos and video channels that are communicating to consumers while they are in stores."
Girls' tie-ins have managed to rankle some of the show's core fans, many of whom are used to praising the series' authenticity. "However you feel about the show," writes a blogger at the site Jezebel, "the tone of Girls is refreshing because it lacks precisely that kind of consumer-driven, I'm-supposed-to-want-her-purse aspirational shit that lurks in the background of basically every other female-driven show on television."
In spite of the irony, "I don't think that message gets out as strongly as the relationships, and personalities, and fashion," Winer says. "I think that's what the audience looks at as opposed to whether she has money or not."
HBO provided Businessweek.com with a complete list of retail tie-ins, developed with media agencies PHD and Civic Entertainment Group, to promote Season 2:
• Hair salon Drybar is offering free blowouts Jan. 11-13. The promotion was so popular when it was announced that Drybar's site crashed.
• SoulCycle is giving away "Free Girls Rides" to spinners in New York and L.A. this week featuring music from the show, gift bags, and co-branded sweatbands. Due to demand, the studios increased the total number of Girls Rides from 19 to 29 classes, each of which will have 35 to 65 bikes, says SoulCycle spokesperson Gabby Cohen.
• Urban Outfitters isn't only offering measly prizes—like "character-inspired nail art appliques and codes to download episodes from the first season," as AdAge reported—it's also holding a social media contest to win $24,000 for rent for a year and a $5,000 gift card.
• Ten nail salons in New York and L.A. are giving away free manicures using a line of Girls-inspired nail polish. Another 100 nail salons will be outfitted with Girls posters, emery boards, and TV trailers.
Before it's here, it's on the Bloomberg Terminal.
LEARN MORE