Small Bailed-Out Banks Still Lagging in Main Street Loans
By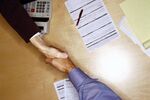 Community banks that got government money through a Department of Treasury program to boost lending to small businesses increased loans by $740 million in the three months ended in September, according to the most recent data (PDF) released by the agency on Tuesday. But those lenders that used the money to pay off earlier government bailouts were slower to get money out the door than others.
The program, known as the Small Business Lending Fund, lends banks capital at a 5 percent interest rate that drops to as little as 1 percent if they expand their small business loan portfolios. More than 300 lenders together got about $4 billion in taxpayer money. In aggregate, they've increased small business lending by $7.4 billion above the 2009-10 level, which Treasury uses as the base line for comparison.
From the start, some critics said the Small Business Lending Fund risked becoming TARP Junior, because it let small banks trade their earlier government bailout money from the Troubled Asset Relief Program for new taxpayer-funded capital that came with fewer strings attached. Some $2.2 billion, or more than half of the total lending fund pot disbursed, went to refinance TARP loans. The Treasury report points out that even these refugees from that earlier bailout (there were 137 of them) increased their business lending more than peers that didn't take SBLF money.
Still, the program never lived up to its expectations. A look at the latest numbers shows the TARP banks have been lending less enthusiastically than those institutions that didn't use the SBLF to repay bailouts. In aggregate, the TARP banks in the program have increased lending by $1.13 to small businesses for every $1 of loan fund money they got, according to a Bloomberg Businessweek analysis. (Under the program, that's enough to reduce the dividend a lender owes the government to just 1 percent—cheap money for banks.) The lenders who didn't have the earlier TARP money, by contrast, boosted loans by more than $3 for every dollar of SBLF capital they got.
Before it's here, it's on the Bloomberg Terminal.
LEARN MORE