MGM's Sustainability Officer Cleans Up in Las Vegas
Verne Kopytoff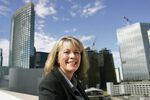 Neon lights, slot machines, and flat screen TVs at MGM's U.S. casinos gobble up enough electricity to power a city. A year's supply of water for showers, swimming pools, and fountains would fill a vast lake.
Cindy Ortega, MGM Resort International's chief sustainability officer, is in charge of trying to reduce the huge environmental impact of welcoming millions of guests annually. The goal isn't to extinguish the flashy spectacle or stop pampering guests. Rather, it is to make well-known hotels like Bellagio, the Mirage, and Mandalay Bay more efficient while minimizing disruption to guests' experience. "You have to understand what the guest expects or appreciates in terms of service," Ortega says. "It's a delicate balance."
Part cheerleader and part number-cruncher, chief sustainability officers such as Ortega push for recycling, more efficient lighting, and cleaner manufacturing. Monitoring government policies and ensuring that suppliers operate responsibly are also part of the job.
In 2004, DuPont, the chemical giant, became the first major U.S. company to hire a chief sustainability officer, according to Ellen Weinreb, managing director for Weinreb Group, a recruiting firm that focuses on the sustainability niche. Alcoa, UPS, AT&T, Kellogg, and Coca-Cola eventually followed. As of last year, 29 public U.S. companies had chief sustainability officers, according to a report by Weinreb. Preliminary results from a follow-up study show that several additional companies have since added the position.
Success depends on getting the word out about sustainability across the company. Rank-and-file employees are encouraged to consider the environment in everything they do. Corporate leaders must be brought on board as well. Showing that sustainability projects save money is critical to getting them approved. "They have to translate this green stuff—this touchy-feely stuff—into business language," Weinreb says. "The C.F.O. isn't going to O.K. something just because it looks pretty or it feels good."
Hiring a chief sustainability officer is just one of many options. Instead of centralizing authority for sustainability, some businesses spread it out among several department heads. Others give the responsibilities to a more junior employee. Job titles vary widely.
Whatever the case, it can be difficult to achieve real progress. Weinreb describes getting frequent calls from CSOs who lament that their ideas are ignored. "The complaint is, 'I've tried every which way, and this company, at the end of the day, doesn't want to change,'" she says.
Ortega started as MGM's chief sustainability officer six years ago after pitching the idea to executives. Previously, she had served as chief financial officer for one of the company's divisions. Her biggest mission was greening CityCenter, a massive Las Vegas hotel, retail, and condominium development that MGM owns in partnership with Dubai World, the investment arm of the Middle Eastern city's government. The various buildings ultimately earned a gold LEED rating, the second-highest environmental certification on a widely used scale developed by the U.S. Green Building Council.
Unable to find a company big enough to recycle construction waste from the project, MGM loaned money to a local recycler to expand its operations. As a result, MGM was able to recycle 93 percent of the discarded materials. It also developed a more efficient shower head that reduces water use. The decision didn't come easily because guests can be finicky about water pressure—the solution was to inject air into the water flow, which provided plenty of pressure while reducing some of the waste.The company also installed thousands of more-efficient light bulbs in a giant clown outside the Circus Circus casino.
Over the past five years, MGM has reduced electricity use at its U.S. properties—excluding CityCenter, which is relatively new—by more than 10 percent, the equivalent of what tens of thousands of homes consume. Water use has fallen 12 percent over the same period, which on a cumulative basis would fill 2,900 Olympic-sized swimming pools.
Ortega acknowledges that many of the sustainability efforts are invisible to the public. Many guests assume that there is no recycling, for example, because they see no blue bins, she says. In fact, Ortega says, the separation is done on the loading docks behind the hotels. The company says it recycles nearly 40 percent of its trash, or close to 35,000 tons annually.
"Do guests need to know that?" Ortega says. "The guests need to know that our restaurants are fabulous and our facilities are beautiful."
Before it's here, it's on the Bloomberg Terminal.
LEARN MORE