MBA Journal: Not Enough Hours in the Day
Nupur Sharma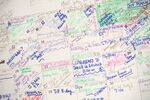 "Sure, I'm free all day."
That's something you'll never hear a Saïd Business School student say. Class, meeting, class, speaker event, networking event, group meeting, study, work out, rinse, repeat. In business school, you have to be ruthless with your time. The untrained time manager can easily triple- and quadruple-book herself multiple times in a day.
Don't get me wrong; it's a magnificent problem to have so many opportunities through the business school, other masters and doctoral programs, and the university as a whole. In the last 10 days alone, I saw Larry Brilliant (former director of Google's philanthropic arm and senior advisor to Jeff Skoll) speak, had dinner (and martinis) with Cindy Gallop (advertising consultant/guru), chatted with the executive vice president for the Clinton Global Health Access Initiative, spent an entire weekend at the Emerge Social Entrepreneurship Conference, and attended an event by TEDx, an organization that allows people to share their ideas and get and give feedback. Classes are important, as is networking, but it's also valuable to challenge myself and stimulate my thinking outside those environments. I have to relentlessly choose what interests me the most, as there isn't enough time otherwise.
Another activity I have greatly enjoyed in the last month here is formal dinner at the various colleges on campus. You have to wear a subfusc gown (ceremonial wear required at formal university events) for the multiple courses served at these candlelit dinners. To attend one outside your own college, you must be invited by a member of that college. Because each college is comprised of students from all university departments, it's an opportunity to meet students from other master's and doctoral programs. It's also the perfect place for healthy debate or relaxing with my classmates in fascinating historical rooms.
While my experience thus far has been wonderful, I'm surprised at the university's old boy's club history and its lingering aspects at the business school. I grew up and worked in a culture where this was not as blatant, so it's not what I am used to. Women are a stark minority, but with more women taking the GMAT, I sincerely hope this changes soon. A higher level of diversity leads to a higher amount of innovation; having so few women limits diversity of thought and more.
Somewhere in between waking up at 5 a.m. for rowing team practice on the Thames and meeting with my group for our last formal project of the term, I realized I am exactly where I should be. I continue to remind myself that I can learn from each person around me, and I am looking forward to getting to know my new community even better.
P.S. Those of you who thought it was crazy that I didn't know how to ride a bike might like to know that a patient classmate was gracious enough to teach me. I hope I'll be able to let go of the handlebars to signal turns when riding on the street in the near future.
Between journal entries, you can keep track of Nupur's business school adventures at the Business Schools Facebook page. Follow the Bloomberg Businessweek B-Schools team on Twitter.
Before it's here, it's on the Bloomberg Terminal.
LEARN MORE