MBA Gender Pay Gap: An Industry Breakdown
Alison Damast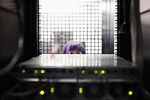 Women MBAs graduating from top business schools have fallen behind their male counterparts in pay over the past decade, with female graduates now earning 93¢ for every dollar paid their male classmates, a nickel less than a decade ago. Perhaps even more concerning is how glaring that widening pay gap becomes when it is broken down by gender and industry.
To illustrate this, Bloomberg Businessweek has assembled a list of the 11 most popular industries MBAs enter after graduation, with starting average female pay broken down as a percentage of male pay in 2002 and 2012. The information is based on surveys of more than 27,000 recent business school graduates that Bloomberg Businessweek conducted as part of its biennial rankings of full-time MBA programs starting in 2002.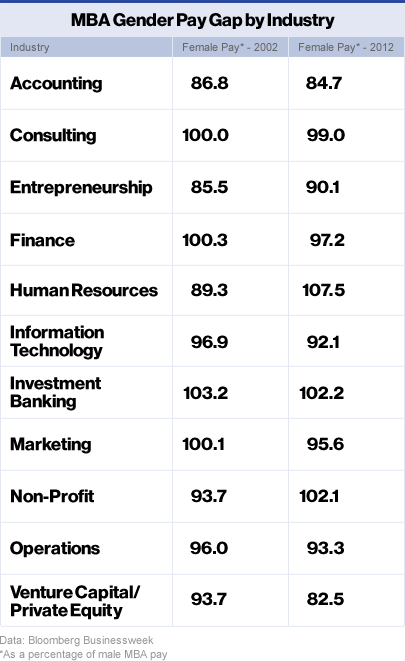 Of the 11 sectors, women lagged behind men in pay in eight of them in 2012, including accounting, finance, marketing, and operations. The most dramatic pay gap occurred in the venture capital and private equity field, where women earned only 82.5¢ for every dollar men made, about a dime less than they earned 10 years ago. Consulting was the industry where women had the closest pay parity with men in 2012, with women earning 99¢ for every dollar their male classmates made. That finding is not entirely surprising: Men and women are generally offered the same pay packages in that field, regardless of gender, career services officers said.
Women outperformed men on salary in just three industries: human resources, investment banking, and nonprofits. Two of those fields—human resources and nonprofits—tend to attract more women than men, which may explain why women in these jobs are earning more than their male counterparts. Their pay gains in a field like nonprofit work, which has one of the lowest annual salaries, did little to shift the overall gender-pay gap in their favor, however.
In general, women were much closer to erasing the wage gap a decade ago. Then, they were closer to parity with men in eight of the the 11 sectors than they were in 2012—including lucrative fields such as investment banking and finance. The pay gap has widened even in nonfinance-related fields, such as information technology. Even in entrepreneurship, where women have significantly narrowed the pay gap, they're still nearly a dime away from pay parity with men.
Before it's here, it's on the Bloomberg Terminal.
LEARN MORE