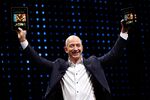 For Amazon, nobody knows what the future will bring, but I'm quite confident that Mr. Market and Wall Street have gotten caught up in unrealistic expectations for the company. Don't buy the hype, and instead be "fearful when others are greedy." I think that longer-term shorts will be rewarded, and I urge investors to take a step back from the mania surrounding this company and think logically about the merits of the current valuation. Based on this, I recommend that aggressive investors consider taking a short position, or perhaps look into purchasing some longer-term put options. This is a sound investing decision based on reason, and history will definitely be on your side.
—Matthew Dow, "Amazon – History Tells Us That Shorts Will Be Rewarded," Seeking Alpha, December 5, 2012.
I lost money four consecutive times shorting America Online. (The Cardinal Rule of Shorting: All the alpha is created shorting a weak stock in a weak sector in a weak market.) I was totally correct on AOL except … I was shorting a story in a good sector in a strong market.
Amazon has gained 5.6 percent in the 33 days since Mr. Dow's smart essay considering the decline of Amazon.
I do not own the shares, and do not cast aspersions toward Mr. Dow, but the Amazonian $40-to-$260 path of persistence from early-Lehman 2009 is awe-inspiring.
I can think of an ample, intelligent set of reasons not to own the shares. I can also put together a brace of reasons to hold and even acquire shares.
Fear is obvious in collapse; far less discussed is the fear of success.
That would be the immeasurable courage it takes to persist in the face of something going right.
I won't tell you to sell, hold or buy Team Jeff Bezos. I will say that the sweat of potential loss is totally different from the sweat of actual gain on the books. Being successful in investment takes real courage backed by foundational beliefs, a core strategy and a set of tactical methods that contain and diminish fear.
Most will stumble; Bezos to the moon. Discuss.
Before it's here, it's on the Bloomberg Terminal.
LEARN MORE