Bank of America Pays Billions in Mortgage Settlements
by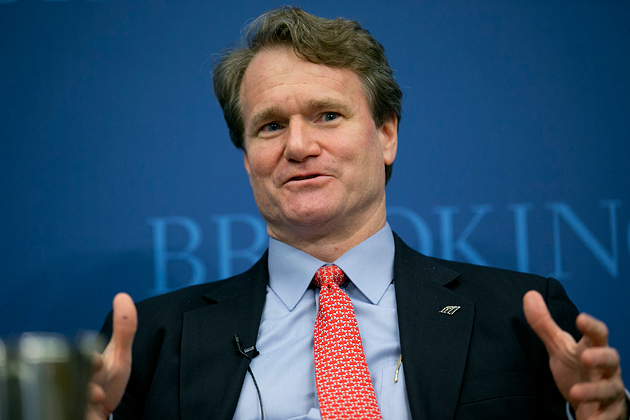 The mortgage settlements just keep coming. On Monday morning, Bank of America said it reached an agreement to resolve virtually all existing and future claims that it (and mortgage lender Countrywide, which BofA bought in 2008) misrepresented the quality of home loans it sold to Fannie Mae from 2000 through 2008. In the deal, Bank of America is paying $3.6 billion in cash and is also repurchasing about 30,000 mortgages for $6.75 billion. That money all goes to Fannie Mae, the government-sponsored enterprise that taxpayers bailed out in the financial crisis.
Bank of America is paying for the deal by tapping into reserves it had already set aside for mortgage-related losses, plus it's kicking in an additional $2.5 billion. That Bank of America needed to draw on extra money has some bank watchers nervous that it hasn't set aside enough money for other outstanding mortgage cases. Tyler Durden at ZeroHedge says the bank's reserves have been "far too low" and this Fannie settlement may just be the tip of the expenses Bank of America will face over loans it sold to private investors. "So with one of the GSEs out of the way, and with an additional $2.5 billion in reserves having to be established just to prefund this particular $10 billion settlement, one can see why the [bank] is so skittish in coming to a settlement over its private label exposure," he wrote Monday morning.
So what other mortgage expenses may be out there? In 2011 the bank and private mortgage-bond holders reached an $8.5 billion settlement, but that still needs court approval and has been contested by some investors, who have sued for greater compensation. In these deals, the bank will need to pay investors (which can include hedge funds, pension funds, and other institutions) that bought mortgage bonds. MKM Partners' Harry Fong wrote in a note Monday that he expects Bank of America will want to resolve those private-investor concerns before striking a deal on yet another big case, the bank's longstanding battle with mortgage insurer MBIA.
All these cases I've mentioned so far focus just on the original sale of the mortgages. The bank also faces costs related to how it has serviced mortgages and foreclosed on borrowers since then. As part of the deal with Fannie Mae, the bank agreed to pay $1.3 billion to cover the costs of foreclosure problems and delays. This money goes to Fannie Mae. Also on Monday, Bank of America and other mortgage servicers reached an $8.5 billion accord over faulty foreclosures. (The accord had earlier been rumored to be an estimated $10 billion.) The regulators didn't provide a breakdown of costs per bank, but analyst Richard Staite of Atlantic Equities wrote before the the deal was announced that he expected Bank of America to bear the brunt of a settlement.
Unlike other settlements I've written about, this accord actually goes to directly assisting and compensating homeowners who are facing foreclosure or may have lost their homes as the result of faulty mortgage servicing.
Bank of America Chief Executive Brian Moynihan said in a statement Monday morning that the settlements are part of the bank's progress putting "legacy mortgage issues" behind it. And oh, what a legacy that has been.
Before it's here, it's on the Bloomberg Terminal.
LEARN MORE