A Rare Free-Speech Fight Erupts Over China Censors
by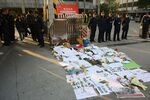 Is China getting fed up with censorship? That's the question people are starting to ask following a dramatic weekend showdown over press independence—still very much ongoing—between China's official propaganda apparatus and reporters at Guangdong's freewheeling investigative newspaper Southern Weekly.
The free-speech fracas—some staff at the paper have said they will go on strike (unspecified what that means) over government interference—has spawned heated criticism on the Chinese Net of Beijing's media controls. And it has some wondering whether the new leadership under Party Secretary Xi Jinping might take a more liberal attitude toward journalistic independence.
Some two dozen prominent Chinese scholars, including liberal economist Mao Yushi, Peking University lawyer He Weifang, and blogger Li Chengpeng, released an open letter on the Internet over the weekend, supporting the Guangzhou-based weekly and calling for the resignation of the province's propaganda chief. Others including journalists and students issued their own calls for more press openness, also over the weekend.
The backlash against censorship was sparked by an unusually forceful intervention by the provincial propaganda bureau. It replaced the paper's annual New Year's editorial, a strongly worded commentary supporting free speech and a stronger rule of law in China, with a new one, full of party platitudes.
According to a translation by the China Media Project, a press monitoring organization and website at the University of Hong Kong, the original editorial stated: "Only if constitutionalism is realized and power effectively checked can citizens voice their criticisms of power loudly and confidently, and only then can every person believe in their hearts that they are free to live their own lives. Only then can we build a truly free and strong nation."
The replacement editorial was an "entirely toothless" piece that included a "vapid passage" about the importance of China's constitution, and quoted verbatim from the New Year's editorial run in the party mouthpiece People's Daily, wrote David Bandurski, project researcher at the China Media Project, on Jan. 3. "Here we extend our blessing and hope that in this new year we can all come a step closer to our dreams," the new piece stated.
While the editorial switch might have gone largely unnoticed, with only internal grumbling at the paper, the decision to make the change without consulting editors seems to have been what sparked outrage (Southern Weekly is owned by the provincial government). "There has been a tacit understanding about the way censorship happens. The editors do it themselves or at least sign off on the final paper," says Jeremy Goldkorn, founding director of Beijing-based media research firm Danwei. "What seems to have really pissed them off at Southern Weekly this time is that the authorities went over their heads."
"Internationally, Southern Weekly is already regarded as the face of China under reform and opening. Domestically, Southern Weekly has spoken with a clear sense of truth, and has spoken on the people's behalf," stated the open letter issued by Chinese scholars. "In light of this we openly advise that the only correct means [of dealing with this matter] is to immediately remove Tuo Zhen from his position as provincial minister of propaganda," according to a translation of the letter by the China Media Project.
Separately, students from Sun Yat-sen University in Guangzhou released their own letter attacking censorship and supporting the paper on Jan. 6. "It is because we have yielded, that power has become unbridled and wanton; it is because we have been silent that the Constitution has become a rubber stamp," wrote the students, again translated by China Media Project.
And on Jan. 7 hundreds of people gathered outside the newspaper's offices in Guangzhou, some waving signs calling for a more open media and some laying chrysanthemums—a sign of mourning in China—to protest the censorship. Surprisingly, Sina.com, host of Weibo, China's largest microblogging service, so far has been allowing netizens to blog statements of support and even post photos of the Guangzhou demonstration.
What comes next? Don't expect any sudden and permanent changes in China's tight control over information. Indeed, just a week earlier, China announced new regulations to control online information, by requiring people to register their real names before using the Internet. "If the government wants to shut this down, all it takes is a flick of a switch at Sina and they have disarmed this incipient movement's communication tool. I have not seen any sign at all that the new administration intends to change direction on media and Internet policy," says Danwei's Goldkorn.
Southern Weekly, which for more than a decade has been known for its muckraking coverage, "has experienced a regular cycle of purges. They do something daring and then there is a purge of some kind—editors leave or get moved somewhere. Then they do something daring and there is another purge," points out Goldkorn. "I would never say never in China. But the most likely scenario is the whole thing fizzles out."
Before it's here, it's on the Bloomberg Terminal.
LEARN MORE