The CEO Talent Show
David Wescott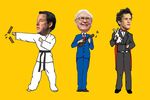 Last month MGM Resorts International raised the bar for employee talent shows when it staged a corporate training program as a musical. (Sequined leotards and jazz hands? Check.) We got to thinking: What if some of the big names in the business world took their quirky talents to the stage? The lineup might look something like this:
Warren Buffett
Chief executive, Berkshire Hathaway
Talent: Strumming the ukulele
Buffett learned to play the ukulele as a "way to get girls" 60 years ago. Now his go-to anthems include I've Been Working on the Railroad and The Glory of Love, by Bette Midler. He has performed with the likes of Bon Jovi and once brandished his Hawaiian mini-ax on Chinese TV to help celebrate the Lunar New Year.
William Clay Ford Jr.
Executive chairman, Ford
Talent: Chopping through boards
The great-grandson of Henry Ford may have carmaking in his blood, but he also has the cool poise of a beer-bottle-slashing Mr. Miyagi. As a black-belt Tae Kwon Do, Ford's been known to shatter several layers of wooden boards with his bare hands.
Aaron Levie
CEO, Box.net
Talent: Illusions
In an interview with Forbes, Levie flaunted his adroitness as a magician: card tricks, a disappearing coin, and other tricks. He even expressed his desire to perform with David Copperfield. "People would know me as, like, the magic guy," he said. "And I was, like, 'No, I'm the Internet guy.' And they wouldn't believe me."
Asher Bohbot
CEO, EOH
Talent: Harmonizing
During the day Bohbot, an former industrial engineer, runs a major IT firm in South Africa, but at night he "sing[s] for leisure in a small group," he told Tech Central. "We're 10 or so strong and sing folk and traditional songs." And while his iPhone apparently contains songs by Coldplay, Counting Crows, and the Eagles, he insists: "Old music is timeless. A lot of new music is oversimplified. I hear the things my son listens to, and it's just drums."
Dick Costolo
CEO, Twitter
Talent: Jokesmith
A former professional standup comic, Costolo—who also founded FeedBurber—uses his improv skills often, and in the boardroom. "One minute he's talking about revenues or negative press; the next he's cracking jokes and making fun of employees for tweets they've sent during the week," says one Twitter worker.
John Chambers
Chairman and CEO, Cisco
Talent: Duck Calling
The 63-year-old inveterate hunter from West Virginia with a talent for avian mimicry landed on Youtube, where he performs and explains his calls. One viewer wasn't impressed with what he heard: "your so-called female call kinda sounds like a blue heron." Burn!
Sandy Lerner
Co-founder, Cisco
Talent: Medieval Jousting
After leaving Silicon Valley in the 1990s, Lerner moved to Virginia and purchased a farm stocked with Shire horses ("the most impressive specimens of the equine world I've ever been close to," wrote one visitor). Lerner occasionally rides these magnificent beasts in Elizabethan jousting contests. He also dabbles in historical period costume design and Colonial-era farming.
Cynthia Whelan
Managing director, Barclays Australia/New Zealand
Talent: Pirouetting
When she was only 15, Whelan left school to become a professional ballerina. After an injury finished her career, she turned to investment banking. "To be good at an art form like ballet or investment banking, you need discipline, a great deal of professionalism, good partnerships and teamwork, and flawless execution," she told LeadingCompany. "A lot of the discipline and resilience I learned as a ballerina, I've bought to my investment banking career."
Marissa Mayer
President and CEO, Yahoo!
Talent: Rote Memorization
The Yahoo! CEO developed a superhuman mind for numbers while working as a grocery clerk during high school. "I have a good memory for numbers. At the grocery store, you have to remember to charge $4.99 a pound for grapes and 99¢ a pound for cantaloupe by typing in a number code. The more numbers you could memorize, the better off you are. If you had to stop to look up a price in a book, it totally killed your average."
Before it's here, it's on the Bloomberg Terminal.
LEARN MORE