MBA Rankings: Top Schools for Teamwork
Geoff Gloeckler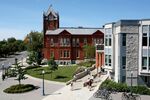 As part of the 2012 Best B-Schools ranking, Bloomberg Businessweek asked MBAs from the Class of 2012 to tell us, via an online survey, about the full range of their business school experiences, from getting in to getting a job. One section of the survey singled out specific aspects of the business program and asked the students to rate those on a scale from "poor" to "outstanding." Over the next few weeks, we will publish the top 10 B-schools in each of the nine specialty areas, from diversity to sustainability to entrepreneurship, culminating with publication of the entire specialty MBA ranking, including each of the 82 ranked schools.
Today we look at teamwork. The ranking is based on student responses to the question asking them to rank their program's approach to teamwork. Points are awarded for each response—one point for "poor" through six points for "outstanding"—and averaged for each school. The average teamwork score for all 82 U.S. and international schools in the ranking was 5.07. At the top of the list is Queen's School of Business in Kingston, Ontario.
At Queen's, team-based learning is a major point of emphasis in the full-time MBA. At the start of the program, each student is assigned to a diverse learning group of six or seven classmates with whom they work through the entire core curriculum. Each team is given a conference room equipped with all the MBA necessities: white boards, printers, a mini-refrigerator, and, most importantly, a coffee maker. Additionally, the groups are each assigned a professional coach to provide feedback and guidance on the team dynamic. Within the learning teams, each student is given the opportunity to lead projects as well as collaborate with their peers.
"This aspect of the program really taught me how to work efficiently as a team member, how to communicate in different situations with a diverse group of people, and how to lead a team of very different individuals," says Daniel Millar, a member of the Queen's MBA Class of 2012. "The program's emphasis on teamwork will be crucial to my future career success, as the ability to lead and work efficiently as a member of a team [is] required in most jobs and industries today."
Following Queen's in the teamwork ranking is ESADE, a Spanish B-school that offers classes in Barcelona and Madrid. One survey respondent lauded the school's focus on the area, calling it an "obsession." As with Queen's, students at ESADE are divided into teams, but because of the wide array of nationalities represented in each MBA class at ESADE—95 percent of the student body is from outside Spain—finding common ground doesn't come easy. Also, because students are assigned to new teams after each semester, they don't have much time to get comfortable. "It's like the real world, where you rarely have the ability to choose your team," ESADE MBA grad Laercio Albuquerque says. "Most of the time, you have to negotiate, compromise, and make the best of the cards that you're dealt."
Switzerland's IMD, Northwestern's Kellogg School of Management, and Dartmouth's Tuck School of Business round out the top five in the teamwork ranks.
Top MBA Programs by Specialty: Teamwork
| | | |
| --- | --- | --- |
|   1. | Queen's | 5.94 |
|   2. | ESADE | 5.88 |
|   3. | IMD | 5.87 |
|   4. | Northwestern (Kellogg) | 5.83 |
|   5. | Dartmouth (Tuck) | 5.82 |
|   6. | Cornell (Johnson) | 5.74 |
|   7. | Duke (Fuqua) | 5.73 |
|   8. | Michigan State (Broad) | 5.64 |
|   9. | NYU (Stern) | 5.63 |
| 10. | Carnegie Mellon (Tepper) | 5.62 |
Before it's here, it's on the Bloomberg Terminal.
LEARN MORE