The Great Citigroup Hedge Fund Giveaway
Two Pandit pals may get a quarter of a fund valued above $100 million
by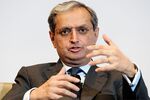 Among Vikram Pandit's last jobs as Citigroup's chief executive officer was deciding the fate of its hedge fund unit, which employs some colleagues from his days at Morgan Stanley and Old Lane Partners. Citi needs to get out of the business to comply with the Volcker rule's restrictions on banks' hedge fund investments and proprietary trading. Before he left in October, Pandit agreed to turn over a chunk of the hedge fund business to his former colleagues, according to people with knowledge of his plan who requested anonymity because the terms aren't public. While Citigroup is keeping a 25 percent stake, they say, managers at Citi Capital Advisors will pay nothing for the remaining 75 percent of the business as it becomes a new firm managing as much as $2.5 billion of the bank's money.
Citigroup, they say, will pay the new firm fees while gradually pulling out assets to comply with the Volcker rule, part of the 2010 Dodd-Frank Act. "They're getting a couple of years to diversify the client base away from Citi and to build a stand-alone firm," says Craig Cognetti, a partner with New York-based financial adviser Grail Partners who analyzed the potential value of the Citi spinoff based on performance data provided by Bloomberg News. CCA co-heads Jonathan Dorfman and James O'Brien, who worked with Pandit at Morgan Stanley and will run the new company, will split 25 percent of the firm. Portfolio managers and other employees will share the other 50 percent.
In a Nov. 6 Securities and Exchange Commission filing, Citigroup said that it will classify the transaction as a sale and expects it to close during the first quarter. The as-yet-unnamed firm will be valued at more than $100 million, according to Cognetti and Ezra Zask, head of New York-based SFC Associates, which consults for hedge funds. They based their estimates in part on unaudited, internal CCA performance data in a report obtained by Bloomberg News that suggests the spun-off firm will include about 10 funds overseeing roughly $3.4 billion. "The details of this spin-out seem to me to be extremely generous to current employees," says Gerald Hanweck, a former Federal Reserve economist who's now a finance professor at George Mason University. "The alternative is for Citi to sell it off. What's stopping them from doing that?"
Citigroup spokeswoman Danielle Romero-Apsilos, who declined to comment on the deal's terms, says the bank explored other options. "The board and management both concluded that this transaction allows us to accomplish our objectives and balance the interests of the affected stakeholders," she says. Along with O'Brien and Dorfman, at least a half-dozen other Wall Street veterans in CCA's executive ranks have long ties to Pandit, who arrived at Citigroup in 2007 after the bank bought Old Lane Partners, his hedge fund, for $800 million before shuttering it the following year. Within months of Pandit's arrival, Citigroup purchased Carlton Hill Global Capital, a hedge fund O'Brien and Dorfman founded after they left Morgan Stanley.
Pandit may have had few other choices as he considered CCA's future, says Charles Whitehead, a law professor at Cornell University who's written about the Volcker rule. Shutting the funds and quickly withdrawing Citigroup's cash could result in losses if the money is tied up in complicated bets, says Whitehead, a former Citigroup executive who says he has no knowledge of its hedge fund strategy.
Mark Williams, a lecturer at Boston University and former Fed examiner, says the deal ought to be structured to ensure that shareholders benefit at least as much as the CCA managers. "Citi shareholders are paying a cost right now for a decision made a decade earlier to venture into risky hedge funds," Williams says. "The Old Laners should not be the ones that gain the lion's share of the profit."
Before it's here, it's on the Bloomberg Terminal.
LEARN MORE