The Few, the Others, the Several
by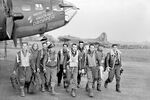 A few members expressed the view that ongoing asset purchases would likely be warranted until about the end of 2013 while a few others specified no time frame. … Several others thought that it would probably be appropriate to slow or stop purchases well before the end of 2013, citing concerns about financial stability or the size of the balance sheet.
—Jeff Kearns and Joshua Zumbrun: "Most Fed Officials Saw QE3 Purchases Concluding This Year," Bloomberg News, Jan. 03, 2013
The "diversity" of views on the FOMC "drives the Committee to adopt an eclectic approach and thus serves to limit the risk that a single viewpoint or analytical framework might become unduly dominant."
—Ben S. Bernanke, in the Cato Journal, vol. 28, No. 2, Spring/Summer, 2008, "The Fed's Road Toward Greater Transparency," pps. 175-186, from Richard H. Timberlake Jr. and Thomas Humphrey: "A Stable Price Level Standard for Federal Reserve Monetary Policy," cato.org, Sept. 25, 2008
An eclectic approach.
The various and sundry schools of economic thought include classical, marginalist, neo-classical, and Keynesian. (The Austrian and neo-Keynesian franchises fit in there somewhere, but it escapes me at this moment.)
And then there is the Richard H. Timberlake Jr. School.
Robert McTeer, he of Dallas by way of Georgia, can provide monetary nuance.
What you need to know is the gentle gentleman—he of three Purple Hearts—owns the high ground on simplicity and the defense against "eclectic." (Memo: Thomas Humphrey is our virtuoso of economic history. Go, this 2013, to the Richmond Fed site and read all, not several, of his papers.)
Our courageous central bank is behind enemy lines. Read Timberlake/Humphrey to understand one approach, one path out of treacherous punch-bowl territory.
Yields are rising; risk is on. We need the Marines from Georgia. Not the few, the others, the several. Discuss.
Before it's here, it's on the Bloomberg Terminal.
LEARN MORE