Spain's Labor Reforms Start to Yield Results
To spur exports, Spain is leaning on labor
by , , and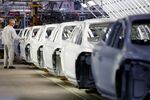 Pablo Garcia could not have wished for a better Christmas present. After a year without work, the 34-year-old Spaniard landed a job at a PSA Peugeot Citroën plant on the outskirts of Madrid. "We have increased production in recent weeks, and it seems there might be a new car model coming next year," says Garcia, who works the afternoon shift on the paneling assembly line. "I've started to consider buying a new house in the neighborhood next to the factory."
Garcia and the 69 other hires Peugeot made in Spain last year are signs that the contentious labor legislation pushed through by Prime Minister Mariano Rajoy last February is starting to bear fruit. The reforms make it easier for companies to opt out of collective wage agreements brokered by unions and cap severance costs on new contracts. The goal is to reverse the loss of economic competitiveness Spain suffered since adopting the euro in 1999, without forcing it to give up the single currency.
Rajoy is emulating the policies Germany put in place a decade ago to reinvigorate its economy. Former Chancellor Gerhard Schröder eased firing laws and cut back the country's generous jobless benefits, putting pressure on the unemployed to seek work. The changes helped lift growth in Germany—once dubbed the sick man of Europe—from a slight contraction in 2003 to 3.7 percent by 2006. With an unemployment rate of 26 percent, Spain has almost three times as many jobless as Germany, with a population half its size. "Circumstances may be more dramatic in Spain now, but it is going through the same kind of internal devaluation as Germany did," says Nicolas Doisy, a former French Treasury official.
Spain's labor costs have been falling in part because businesses are taking advantage of their newfound freedom to fire and hire. "The new law could be the beginning of a decade of wage moderation," says Commerzbank Chief Economist Joerg Kraemer. Data compiled by the Frankfurt-based bank show that Germany's labor costs fell 16 percent relative to the euro area in the decade through 2008; Spain may be able to beat that, Kraemer says.
Such forecasts have prompted automakers, including Ford Motor, Renault, and Peugeot, to boost production at their plants in Spain even as they cut output at factories elsewhere in Europe. Their investments helped power a 4.2 percent increase in exports in the first 10 months of 2012, erasing a current account deficit that has persisted since the country adopted the euro. "Spain is adjusting its current account deficit without devaluing its currency for the first time in its economic history," says Alberto Nadal, who served as deputy secretary-general of the Spanish Confederation of Business Organizations before he was appointed deputy energy minister on Dec. 28.
Even with the uptick in exports, Spain's economy will continue to contract in 2013, according to the International Monetary Fund. That may push up unemployment in the near term and undermine the government's efforts to rein in a budget deficit that at 4.4 percent of gross domestic product was proportionately the same size as Greece's in 2011. Rajoy continues to postpone the decision on whether to seek a European bailout, partly out of concern that the fragile recovery would be jeopardized by the austerity measures accompanying any deal.
For now, Garcia and his fellow line workers at the Peugeot plant in Madrid are optimistic. An October announcement that the facility had been chosen to build a new Citroën model starting in 2014 has also buoyed spirits. Samuel Castillo, 59, a 43-year plant veteran, says he doesn't mind the company demanding more flexibility on schedules or that he's had to swallow a slight reduction in wages: "For the first time in at least eight years, I'm seeing some light at the end of the tunnel."
Before it's here, it's on the Bloomberg Terminal.
LEARN MORE