In Israel, Nochi Dankner's Empire Is at Risk
Amid a cash squeeze, Nochi Dankner faces a fraud probe
by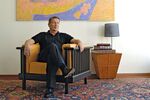 Fifty-four Israeli companies are listed on the Nasdaq, and the country contains more startups per capita than the U.S. Yet just 20 families control about 50 percent of the value of the Tel Aviv Stock Exchange. In 2009, Nochi Dankner, the scion of a family that made its fortune in table salt and real estate, was its biggest name. As Israel's largest holding companies struggled to refinance debt amid worldwide recession, Dankner's IDB Holding expanded overseas, buying stakes in French retailer Carrefour, Credit Suisse, and HSBC Holdings' Manhattan building. That year, TheMarker, an Israeli daily, ranked him the third most influential person in the economy, behind Prime Minister Benjamin Netanyahu and central bank Governor Stanley Fischer.
That was then. With IDB Holding now struggling under debt of about 2 billion shekels ($514 million), Dankner, 58, is selling, not buying. His company's shares plunged 74 percent in 2012, hitting a record low on Dec. 27. The company reported on Aug. 31 that its second-quarter loss widened 44 percent to 1.27 billion shekels and said that it might not remain a "going concern." IDB Holding is in talks with bondholders to settle its debt, according to Israeli newspaper Calcalist. Making matters more complicated, the Israel Securities Authority is investigating whether Dankner committed securities fraud. The investigation relates to the issuance of shares and options, according to an e-mailed statement by the ISA. Dankner said in an e-mail that he was confident his actions were legal.
IDB's structure of holding companies and subsidiaries largely insulated it from the immediate shock of the global financial crisis. As subsidiaries cut the dividends they used to send up the corporate chain, however, the parent company had trouble repaying the costs of its expansion. One subsidiary, Discount Investment, reduced its payout to IDB to 180 million shekels in 2011 from 2.08 billion shekels in 2007, according to data compiled by Bloomberg. Netanyahu's cabinet in April approved recommendations that require holding companies to simplify corporate structures, limiting existing conglomerates to three levels of listed subsidiaries and new conglomerates to two. The government opened the mobile-phone industry to additional operators and instituted a series of telecommunications cost controls, hurting one of Dankner's most profitable companies, Cellcom, which lost 5.12 billion shekels in value in 2011 after the rules took effect. "When the 2009 crisis hit, he looked untouchable, because his companies were cash cows in industries with little competition," says Gilad Altshuler, co-chief executive officer of Israel-based investment firm Altshuler Shaham. Once Netanyahu took action, "a new wave of regulations started to hit almost every IDB holding," says Dorin Zelnir-Palas, a corporate bond analyst at Israel Brokerage & Investments (IBI) in Tel Aviv, citing Cellcom.
At the peak of the U.S. housing bubble in 2007, when IDB posted then-record revenue of 34.8 billion shekels and profit of 1.2 billion shekels, one of the company's subsidiaries joined Israeli tycoon Isaac Tshuva to build a Las Vegas hotel-casino inspired by Tshuva's Plaza Hotel in Manhattan. Crippled by the financing freeze that halted construction on the Strip, today the site is an empty lot and Tshuva has written down the project's value by more than 40 percent, according to IDB, which is in talks to settle with creditors. Dankner's bet of more than $1 billion on Zurich-based Credit Suisse has also soured, as the European sovereign debt crisis wiped out 57 percent of the bank's market value after 2009, says analyst Zelnir-Palas. Standard & Poor's Maalot unit cut IDB's bond rating to CCC from BBB- following the Aug. 31 earnings statement.
In a letter to employees that was later leaked to the public, Dankner said on Sept. 1 that IDB had enough money to survive "close to a year." The company is seeking a "significant" loan from a foreign financial institution and may merge with its Koor Industries investment unit, the company said in an Oct. 24 filing with the Israel Stock Exchange. In August, IDB sold a unit of Tel Aviv-based Clal Insurance Enterprises Holdings to Warren Buffett's Berkshire Hathaway for $221 million and gave up control of newspaper operator Maariv Holdings and Clal Industries. Dankner is in talks to sell Given Imaging, the Israel-based maker of a pill-sized diagnostic camera. With an introduction from his rabbi, he secured an investment from Argentine businessman Eduardo Elsztain for as much as $100 million in IDB's parent company, Ganden. "He's working around the clock every day of the week trying to think out of the box," says Nir Hefez, a Dankner adviser and former director of media and communication for Netanyahu. "Every few weeks he has a new idea."
Before it's here, it's on the Bloomberg Terminal.
LEARN MORE