Howie Choset, Robot-Snake Charmer
By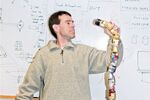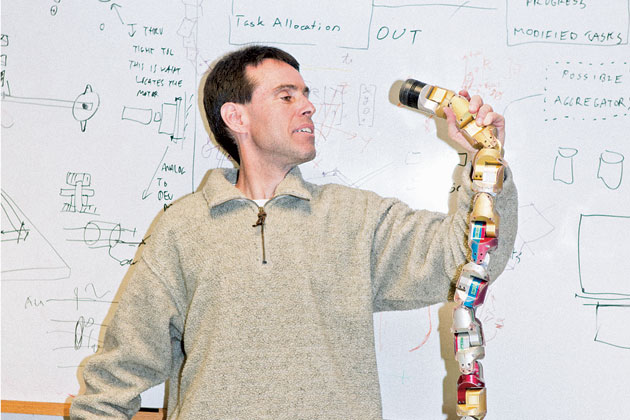 Howie Choset, a professor of robotics at Carnegie Mellon University, has spent years creating mechanical snakes with names such as Uncle Sam, Betsy Ross, Pepperoni, and Monster Max that can climb up poles, swim across ponds, and burrow into tight places. The reptilian bots have as many as 75 specially constructed joints with tiny motors, and some borrow movements, like sidewinding, from desert snakes and other living creatures. Now Choset, 44, is working on versions that could be used in search and rescue after earthquakes and that slither along pipes at power plants to detect cracks and leaks that could cause accidents.
"He is pushing his robots to operate in environments robots traditionally couldn't work in—sand, debris, rubble," says Daniel Goldman, a physics and biology researcher at Georgia Institute of Technology who collaborates with Choset on using mathematical models to better understand how snakes and the sandfish lizard move.
The key to the robotic snakes' maneuverability is their joint design. Comprising about 20 parts, each joint is designed to be stronger and provide a greater range of motion than a typical robot's, Choset says. The robots are controlled with movements of a joystick (connected wirelessly or by a cable), which produce electric signals that activate the motors in the joints. A few years ago one of his robots, equipped with a camera, was used in an archaeological study of the cavity under the Great Pyramid of Giza. In 2006, Choset co-founded Medrobotics, a startup that built a 12-inch robot to film and probe the human heart. The device has been successful in early trials, but the company has yet to bring it to market. Medrobotics is currently working to gain Food and Drug Administration approval to sell a snakebot for use in ear and throat surgeries.
Choset has been interested in how cars, trains, and people move ever since he was a 5-year-old growing up on Long Island. He says he got his first computer in eighth grade and taught himself how to program. In his junior year in high school he built a robotic car out of a shoebox. The next year, he constructed an automated vehicle with an ultrasonic sensor that prevented it from ramming into walls. The gadget made it into the finals at a national science competition.
As an undergraduate at the University of Pennsylvania, Choset double-majored in business and computer science. He then went to the California Institute of Technology, where he wrote his Ph.D. thesis on creating mathematical models that could be used as the basis for robotic movement. After earning his doctorate in 1996, he began working on snake robots at Carnegie Mellon.
Later this month, a three-foot aluminum snake he developed will burrow into a prairie dog hole at the National Zoo in Washington to traverse its tunnels and relay the footage. Choset may attend to watch the results. "Even after 20 years," he says of his robots, "I still never get bored watching them move."