Greece's Other Crisis: Refugees
Families fleeing war and poverty stretch Greek resources
by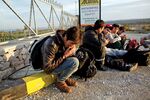 At 6:30 a.m. on Dec. 8, Greek Coast Guard Ensign Chrisafis Theofilos's boat got a report of a migrant drowning off the island of Lesbos. Theofilos sped south only to find that another Coast Guard boat had saved the man and taken him to the hospital. It was one more incident on the front lines of Greece's other crisis: the influx of illegal immigrants and war refugees from Afghanistan and Syria. The drowned bodies of at least 18 people trying to enter Greece were found off Lesbos on Dec. 15. "It's endless, endless," Theofilos says.

Because Lesbos, an island of about 630 square miles, lies just six miles off the coast of Turkey, it's often the first place smugglers dump their human cargo. "Hospitality is a concept Greeks have had since ancient times, but there is a ceiling," says Athanasios Giakalis, the North Aegean regional governor who oversees Lesbos. Golden Dawn, Greece's anti-immigrant party, is gaining strength on the island, according to George Diakoronas, the local party chairman. He says he's concerned that illegal immigrants and war refugees will bring disease and that border guards and other measures are needed to stop the flow. "What I would like is for them to go back to their countries and leave my country to cope with the situation it's in," he says.
Although Greece's economy is in deep depression, it remains the top destination for those seeking to enter the European Union illegally. About 31,000 such people were apprehended entering Greece in the first 11 months of 2012, says Frontex, the European border agency. The Greeks are struggling to come up with a practical, compassionate way to deal with the refugees. The government plans to build two camps on islands close to Lesbos to house illegal immigrants and war refugees while it figures out what to do with them. The camps would feature a so-called first-reception service to determine who could apply for asylum and who eventually would be deported. The service was set up last year, but because of a hiring freeze it has only 16 staffers, all of them in Athens, says Panagiotis Nikas, the program's director. More positions are budgeted for this year.
For now authorities on Lesbos have limited resources. Most of the immigrants and refugees want to be arrested, because the police eventually issue a deportation order. That creates a loophole for the migrants: The order serves as a form of identification that allows them to leave the island—supposedly to go home, but often to head for the European mainland.
Police had packed the island's main police station with immigrants and refugees who were under arrest and waiting for their deportation order, say the United Nations High Commissioner for Refugees, local activists, and government officials. With the holding tank full, police turned new arrivals away. "They told us to go, they can't help us," says Narges, a 17-year-old Afghan refugee who fled Ghazni, south of Kabul, with her mother and sister. She didn't give her last name. "We told them, 'We haven't anywhere to sleep.' They told us, 'Go to the street.' " Police at headquarters in Lesbos's capital, Mytilene, didn't respond to a request for an interview.
The European Union, despite its many problems, still offers the promise of work and safety, prospects worth risking one's life for. Ibrahim, 34, and Masome, 25, who didn't provide their last names, paid a smuggler to take them and their 4-year-old son from Afghanistan across Iran and Turkey to Greece. The seven-month journey ended on a boat without life jackets or a captain. The smugglers forced one of the migrants to take the helm. As waves battered the boat, "I just hugged [my son] in my arms," Masome says.

Exhausted refugees sitting on the steps of a store in the village of Mantamados say they were dumped onto a rocky Lesbos beach by traffickers. They hiked an hour through the woods until they found a road and then walked three hours up and down steep hills to the town. One of them—Mustafa, a 15-year-old from near Kabul—traveled four months with his parents and three brothers. He speaks English with an American accent learned by watching subtitled U.S. action movies. "The situation was extremely hostile for us," he says of his life in Afghanistan, with mines going off and fears mounting that the Taliban would take over. "Every day when I went out to shop, I thought I wouldn't come back alive."
On Lesbos, some locals persuaded the city of Mytilene to give them the keys to Pikpa, a camp used in the summer for disabled children. Pikpa opened to migrants in November and was run on donated food and labor. Then, before Christmas, police closed it and gave the inhabitants 30 days to leave Greece. With deportation orders in hand, Pikpa's former occupants will be allowed off the island. Most will head to Athens instead of going home, either to push on deeper into the EU, work in Athens's undocumented economy, or apply for asylum. Their journey is only beginning.
Before it's here, it's on the Bloomberg Terminal.
LEARN MORE