For Corporate Training, MGM Resorts Puts on a Show
Break out those tap shoes: MGM Resorts hosts a companywide talent extravaganza
by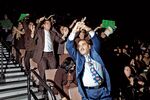 Roxanne Ramirez usually manages the card and gaming tables at the Mirage Hotel & Casino in Las Vegas, but today she's dancing for her paycheck. "I have no idea what I'm doing up there," she says backstage at the Mandalay Bay Events Center, where she's just finished singing and making jazz hands in front of 7,000 co-workers. Ramirez is one of 70 MGM Resorts International employees who wrote, produced, and are now starring in their own production, Inspiring Our World: A Musical Journey, which explores MGM's commitment to diversity and sustainability. It just may be the only corporate training program that involves sequined leotards.
The show, led by motivational speaker Ondra Berry, features all the corniness of a typical company event: group handshakes, mission statements, and claims that the employees work for "the greatest company in the world." But instead of using PowerPoint slides, MGM has decided to set its spiel to music. It's a one-shot attempt to get all of its 62,000 Las Vegas-based employees through its corporate diversity program, a voluntary two-day course that attracted only a fraction of MGM's workers in the past. "We just couldn't get our message out there fast enough, and we needed a way to reach everyone," says Patty Coaley, director of diversity education at the company. Jim Murren, MGM's chief executive officer, agrees. "People think 'diversity' just applies to stuff that happened in the 1960s, but we really wanted to broaden the scope to apply to everyone," he says.
More than 120 employees auditioned to be a part of the show, which had 10 performances over three days in mid-December. Coaley and two other organizers didn't ask for specific talents—they just had people arrive and do whatever they felt they did best. Ramirez sang Etta James's At Last during her audition, while Joel Heidtman, a butler in the luxury suites in the Monte Carlo, juggled. "It was just like America's Got Talent," he says. "Everyone did something different."
Heidtman, a former clown for Ringling Brothers, was at ease under the lights, but most of his colleagues suffered serious stage fright. The team rehearsed eight hours a day for 12 days in a row, and they were all paid overtime for their dedication. "I can't believe they learned their dance routines in such a short amount of time," Heidtman says. "Many of them couldn't even dance at all when we started."
Inspiring Our World featured a rap and a Stomp-esque percussion routine about the 14,000 tons of garbage MGM recycled this year; a power ballad about conserving 500 million gallons of water; a gospel song about equality with the cryptic refrain, "I know where I've been"; and an electric fiddle player who accompanied a woman in a shimmering ball gown as she sang about the company's commitment to energy conservation. But the highlight was a series of testimonials delivered by five employees about the racial, religious, gender, and weight-related discrimination they've faced in their lives. Ramirez's tearful story about coming out as a lesbian to her friends and family earned her a standing ovation. "It was very hard to talk about what I went through in front of everyone," she says. "It's not just an audience of strangers out there, it's your co-workers."
CEO Murren had the same worries. Maybe that's why he decided to deliver a pep talk about "employee engagement" instead of something flashier. Murren described MGM's mission to "entertain and inspire" its guests and reminded everyone that when people come to Las Vegas, it's MGM's job to make sure they have a good time. "I had just one requirement when they asked me to be a part of this," he says: "Please don't make me sing. I'm horrendous."
Before it's here, it's on the Bloomberg Terminal.
LEARN MORE