Fiscal Cliff Is Latest Disaster for Sandy Victims
By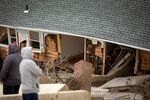 With the tax portion of the fiscal cliff deal finally sealed, the wider public has temporarily been spared a crisis. Not so the millions of Hurricane Sandy victims. In the last-minute frenzy to pass legislation averting the cliff, House Republicans ditched the disaster-aid relief bill that would have provided New Jersey, New York, and Connecticut with $60 billion to clean up the mess.
The legislation would have provided funding for Federal Emergency Management Agency (FEMA) trailers and the reconstruction of storm-ravaged Coast Guard facilities, cemeteries, and hospitals. There was also more than $300 million going to the perennially poor Amtrak and enough perks stuffed into the legislation that some Republicans were crying pork. The big debate in divvying up the relief money centered on how many billions to put toward rebuilding infrastructure such as subways to withstand future storms. The current FEMA standard is only to rebuild things to their pre-crisis state. Given the likelihood that climate change will bring similar disasters, that standard needs to be updated—but it means a much bigger tab for the federal government.
After New York and New Jersey lawmakers flooded the airwaves Wednesday to assail House Speaker John Boehner for casting the disaster-relief bill aside, he relented. The House now plans to vote tomorrow on a portion of the bill that would provide an additional $9 billion in government-sponsored flood insurance. FEMA says those funds to pay insurance claims will run out by Jan. 7 if Congress doesn't approve more borrowing authority. A vote on a $51 billion package is apparently slated for Jan. 15. As House Appropriations Committee Chairman Hal Rogers told Bloomberg News: "With the cliff sucking all the oxygen out, it's hard to get anything else focused on here."
My colleague Peter Coy aptly describes the fiscal cliff debacle as a "years-long cycle of pettiness, delay, and zero-sum gamesmanship." Hurricane Sandy victims are only the latest casualty. After Hurricane Katrina ravaged New Orleans in 2005, Congress allocated $51.8 billion in relief within 10 days of the disaster. It has already been two months since Sandy struck—and it's obviously going to be several more (cold) weeks before many of its victims get some relief.
Before it's here, it's on the Bloomberg Terminal.
LEARN MORE