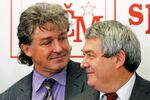 The Czech Republic's ruling conservative coalition, led by Prime Minister Petr Nečas, has struggled to stay intact since shortly before Christmas. The group's minority partner may abandon the coalition, bringing down the government and triggering national elections as early as this spring. Polls show that if the election were held today, the Social Democrats and the Communist Party of Bohemia and Moravia (commonly called the KSCM) would prevail.
To rule, the Social Democrats would need the Communists to join in a formal coalition, or give steady support in Parliament without being part of the government. Either way, the KSCM would have more clout than at any time since the old regime's collapse in 1989. The party did well in October regional voting and now rules together with the Social Democrats in 10 of 13 regions, up from five after previous elections in 2008.
Many voters are souring on Czech-style capitalism, which has featured insider deals and bribery as well as two debilitating recessions since 2009 that have been aggravated by austerity measures and tax hikes. David Rath, the former health minister, was caught last May with the equivalent of $370,000 in cash on him. Police found $1.6 million more in his house, according to media reports. Charged with soliciting bribes, Rath is now in jail awaiting trial; he denies wrongdoing. The Czech Republic ranked below Georgia and Rwanda in Transparency International's 2012 Corruption Perceptions Index. "Much of our work was done by the government," says Jiří Dolejš, the KSCM's shadow finance minister. "People are unhappy and don't trust politicians."
While former Marxists have held power in Poland and Hungary, the Czechs have the only "unreformed" communist party in the region, according to David Ondráčka, who heads Transparency International's Prague branch. Communist parties in neighboring countries had reformist members who merged their old Marxist organizations with mainstream socialists. Until recently, Czech communists have had no serious reformers. That's partly due to the crushing defeat the then reform-minded Communist party suffered in 1968, when Warsaw Pact troops suppressed a bid to democratize the old Czechoslovakia. The KSCM still has Marxist posters all over its offices and routinely denounces the U.S. The party also wants the country to pull out from NATO, which could lead the Czechs back into Russia's orbit.
The KSCM advocates boosting taxes and welfare spending and beefing up regulation of the financial industry, Dolejš says, policies similar to those of the Social Democrats. The party would slow the pace of deficit reduction; invest in projects with a multiplying effect on growth, such as highway work and aid to small and medium-size businesses; and repeal the partial privatization of pensions. The KSCM also seeks an end to regulatory limits on use of the country's reserves of brown coal, which is highly polluting, to generate mining jobs.
Dolejš is a spokesman for those communists who want to modernize. Other party members are far more doctrinaire. Marta Semelová, a member of Parliament, has lauded Cold War-era border guards who shot at fleeing Czechs and urged the party's "Bolshevization." In 2011, KSCM leader Vojtĕch Filip wrote Pyongyang after President Kim Jong Il's death, praising his "sacrifice for the good of his people." Roman Janouch, editor of the KSCM newspaper Haló noviny, is nostalgic for rationing in the communist era. "I, too, had to wait in line to buy a few bananas and tangerines when they arrived before Christmas," he says. "I actually have fond memories of it, because it had its own magical atmosphere."
For now, investors are unmoved by the Communists' recent success. The nation enjoys borrowing costs slightly cheaper than those in higher-rated France, with the yield on the 10-year Czech benchmark bond at 1.83 percent recently. Yet the Communists "may be more dangerous than most think," says Martin Lobotka, an economist at Ceská spořitelna, a bank in Prague. KSCM measures may increase debt and "set off alarm bells at major rating agencies," which would lead to "Czech yields rising and the koruna weakening," he says. If the KSCM joined the government, the country would be in "uncharted political waters, and [that] could be the trigger for a reassessment of Czech credit," says Nicholas Spiro, head of Spiro Sovereign Strategy in London. Communists in national office "would come under enormous pressure, politically as well as externally, to act responsibly."
Before it's here, it's on the Bloomberg Terminal.
LEARN MORE