Bank Shareholders Benefit From Wall Street's Shift
Pay cuts upset workers but reward investors
by and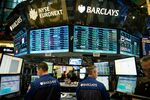 Shareholders and bondholders who watched compensation costs at the nine largest global investment banks outpace the gain in revenue from 2004 to 2008 are witnessing a shift: Executives are reining in pay to boost returns for investors.
The nine banks—Deutsche Bank, Barclays, JPMorgan Chase, Bank of America, Citigroup, UBS, Credit Suisse, Goldman Sachs, and Morgan Stanley—announced more than 30,000 job cuts in the first nine months of last year, according to data compiled by Bloomberg. Total pay for traders and investment bankers is about half what it was in 2007, according to an October report from Options Group, a recruiting firm. "Shareholders have become a lot more vocal," says Benjamin Hesse, who manages five financial stock funds at Fidelity Investments. "Managements are taking more shareholder-friendly steps, and that's really across the board."

Shares of the nine global banks returned an average of 36 percent in 2012, topping the Standard & Poor's 500-stock index's 14 percent. Investors have applauded management teams that have pushed the most ambitious restructuring efforts. In October, Citigroup shares climbed 4.8 percent in the two days after the bank's board ousted Chief Executive Officer Vikram Pandit. The stock also jumped 6.3 percent when his replacement, Michael Corbat, said the bank would cut 11,000 jobs. After Switzerland's UBS announced it would jettison most of its fixed-income business and cut as many as 10,000 jobs, its stock price climbed above book value for the first time in 15 months. Many of its rivals, including JPMorgan and Goldman Sachs, haven't traded above that level yet.
Even after their gains last year, shares of the nine banks are still trading at depressed levels as investors question their ability to boost profits. Shareholders of Bank of America, Citigroup, and Credit Suisse have seen negative returns since the end of 2008. Only Barclays has beaten the S&P 500 over that period.
For bondholders, the Bank of America Merrill Lynch Global Large Cap Banking Index has produced a total return of 14.4 percent this year, beating the 11.5 percent return on the broader Global Large Cap Corporate Index. It was the first time the bank index outperformed the corporate benchmark since 2008. "The pendulum has totally, totally swung," says Davide Serra, a managing partner at London-based Algebris Investments. "It's better to be a bondholder than an employee."
Goldman Sachs raised its dividend twice in 2012, after leaving it unchanged since 2006. In the past two years, it has cut about 2,800 jobs and reduced companywide compensation 16 percent. Last year, it named the smallest class of partners since going public in 1999. CEO Lloyd Blankfein, who was awarded a record-setting $67.9 million bonus for fiscal 2007, received $12.4 million in compensation for 2011.
Across Wall Street, "there's a recognition that things are going to change and that it's very difficult to justify paying people entrepreneurial wages when they're really utilizing the platform and the capital of a public company," says Michael Aronstein, founder of Marketfield Asset Management. "This has been in the cards for five years, but it takes a long time."
Before it's here, it's on the Bloomberg Terminal.
LEARN MORE