The Great Canadian Maple Syrup Heist
$18 million of Canadian maple syrup was discovered stolen this summer. Were the thieves dirty outlaws or capitalist heroes?
By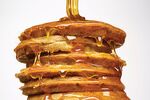 On the morning of July 30, 2012, an accountant named Michel Gauvreau arrived at the Global Strategic Maple Syrup Reserve, housed in a huge red brick warehouse on the side of the Trans-Canadian Highway in Saint-Louis-de-Blandford, about two hours northeast of Montreal. Inside, baby-blue barrels of maple syrup were stacked six high in rows hundreds deep. Full, each barrel weighs about 620 pounds. With grade A syrup trading at about $32 per gallon, that adds up to $1,800 a barrel, approximately 13 times the price of crude oil.