The Fiscal-Cliff Deal and Taxes: We'll All Pay More
By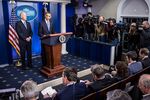 You've probably gotten the headline memo by now that the fiscal cliff deal means basically everyone is paying more taxes, especially the very wealthy. The main reason everyone will pay more is that payroll taxes are going up across the board by 2 percentage points, from 4.2 percent to 6.2 percent. But several main parts of the deal determine why the wealthy will see bigger tax increases.
The biggie: Income tax rates don't change for earnings under $400,000 a year (or $450,000 for married couples jointly filing), but for income above that level, the Bush-era tax cuts expire and the marginal income will be taxed at a top bracket of 39.6 percent.
Taxes on capitals gains and dividends are rising to 20 percent for people above that $400,000-a-year threshold. People with income below that will still pay the old top rate of 15 percent.
Personal exemptions and itemized deductions are phased out for people who earn more than $250,000 for single filers ($300,000 for married couples filing jointly). The phaseout "reduces the value of each personal exemption from its full value by 2 percent for each $2,500 or part thereof above specified income thresholds," the Tax Policy Center explains.
Estate taxes are rising, too. The first $5 million in inheritance is still exempt, but after that the tax rate rises to 40 percent, from 35 percent previously.
The middle class dodged a bullet on the Alternative Minimum Tax. The deal permanently patches the AMT, staving off an average of $3,700 in additional taxes for 28 million middle class filers. To understand this one, you need some background. The AMT was created decades ago to place a floor under the taxes paid by wealthy people. But Congress didn't peg the income threshold to inflation, forcing lawmakers to pass annual stopgap measures to do that temporarily and prevent the threshold from falling low enough to include middle-class taxpayers. Without a new patch, the 2012 AMT would have fallen back to 1993 levels, which meant people earning as little as $33,750 individually (or $45,000 for married couples filing jointly) would have had to pay the AMT, according to the Tax Policy Center. Now the cliff deal permanently indexes the AMT threshold to inflation.
There are plenty of other tax bits in the bill. For example, struggling homeowners will avoid the "mortgage fiscal cliff," which would have taxed any portion of their mortgage principal that is forgiven in a modification, in a short sale, or that a bank doesn't recoup in a foreclosure. But if you understand the big pieces, you'll cover the biggest bases. Now, onward to April filings.
Before it's here, it's on the Bloomberg Terminal.
LEARN MORE