MBA Rankings: Top Schools for Leadership
Geoff Gloeckler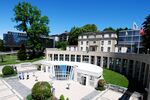 As part of the 2012 Best B-Schools ranking, Bloomberg Businessweek asked MBAs from the Class of 2012 to tell us, through an online survey, about the full range of their business school experience, from getting in to getting a job. One section of the survey singled out specific aspects of the business program and asked the students to rate them on a scale from "poor" to "outstanding." Over the next few weeks, we will publish the top 10 B-schools in each of the nine specialty areas, from diversity to ethics to entrepreneurship, culminating with publication of the entire specialty MBA ranking, including each of the 82 ranked schools.
Today we look at leadership. The ranking is based on student responses to the question asking them to rank their program's coverage of leadership, both in the classroom and out. Points are awarded for each response—one point for "poor" through six points for "outstanding"—and then averaged for each school. The average leadership score for all 82 U.S. and international schools in the ranking was 4.68. At the top of the list is IMD in Lausanne, Switzerland.
Nearly every student respondent from IMD mentioned the school's "leadership stream" as something that sets the program apart. "It's a unique personal development program that is woven into the curriculum in every aspect," says 2011 IMD MBA grad Kamini Aisola. "This kind of learning through interpersonal interactions and teamwork can only be acquired through experience, not taught in the classroom."
The leadership stream encompasses the entire MBA program at IMD. Students are asked to write a "Personal and Professional Identity Narrative,"— an autobiography, of sorts—before they come to campus. Then, as the program progresses, students revise their personal narrative based on feedback from peers and coaches. Once on campus, students work through intense outdoor team-building activities modeled after those developed by the German army after World War I—think Outward Bound in the Alps. Additionally, MBAs have the option of partaking in individual and team coaching with trained psychoanalysts to better understand their personal decision-making processes.
After IMD is Stanford's Graduate School of Business. When Stanford revamped its MBA curriculum in 2007, leadership became an integral part of the B-school's makeup, with specific focus on areas like motivating others, building relationships, and influencing outcomes. In their first quarter on campus, MBAs take part in experiential Leadership Labs, project-based simulations that present students with real-life leadership issues like negotiations and getting others to 'buy in' to a proposal.
At the end of the quarter, students take on the Executive Challenge—a final-exam, of sorts—that gives them a chance to put what they learned in the Leadership Labs into practice.
Additionally, the school offers seven leadership-related courses in the core curriculum, and 28 electives, including courses like "Leadership and Crisis Management" and "High Performance Leadership".
Harvard Business School, Cornell's Johnson Graduate School of Management, and the University of Pennsylvania's Wharton School round out the top five.
Top MBA Programs by Specialty: Leadership

IMD                                                              5.98
Stanford                                                      5.79
Harvard                                                       5.56
Cornell (Johnson)                                     5.51
Pennsylvania (Wharton)                          5.46
Carnegie Mellon (Tepper)                       5.40
North Carolina (Kenan Flagler)             5.39
Michigan (Ross)                                        5.38
Vanderbilt (Owen)                                    5.37
IE Business School                                    5.36