The Business Behind the SeaWorld IPO
by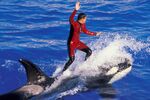 Shamu may have new masters. The private equity firm Blackstone today filed to take SeaWorld public at an undisclosed date. Blackstone  bought the amusement parks in late 2009 for $2.7 billion from Anheuser-Busch InBev. At the time, the amusement parks weren't profitable—they lost $58 million in December 2009 alone—but they've made money since: In 2011 net income was $19 million, and in the first nine months of 2012 it was $86 million.
SeaWorld Entertainment runs 11 parks under several different brands: SeaWorld, Busch Gardens, Aquatica, and Sesame Place. It also runs Discovery Cove, a park next to the SeaWorld in Orlando that offers luxury cabanas and the ability to swim with dolphins and limits admission to no more than 1,300 people a day. More than half the company's revenue comes from parks in Florida, several of which are in the theme park mecca, Orlando. In an attempt at the quantification of fun, the IPO filing says the parks combined have 93 animal attractions (Hello, Shamu), 193 rides (lazy rivers, anyone?), 113 shows, 49 play areas (like Halloween mazes), 38 limited-time events, and 113 "distinctive experiences," such as feeding penguins.
SeaWorld's filing makes clear what anyone who's ever purchased an outrageously priced amusement park soda already knows—the real profit comes from food and merchandise. In the nine months through September, SeaWorld spent just $99 million on food and goods that brought in $445 million in revenue. Compare that with the $560 million it cost to operate the parks, which brought in $716 million in ticket sales. The average customer spent $22.39 on "in-park" spending, the filing says. That's on top of the nearly $35 the average person spent on admission.
The filing points out some unique risk factors. Blackstone will keep a controlling share in SeaWorld, which could lead to a conflict of interest, because Blackstone also owns a "substantial stake" in the company that owns Legoland theme parks. And then there are the animals. They are susceptible to infectious diseases, the filing says, and dangers lurk in their interactions with humans, too. "Injuries or death, while rare, have occurred in the past and may occur in the future," it says. So Shamu and his buddies are both assets and liabilities.
Before it's here, it's on the Bloomberg Terminal.
LEARN MORE